Dollar Resistance Futile as Aussie Sell Options Rise
Kristine Aquino, Hiroko Komiya and Kevin Buckland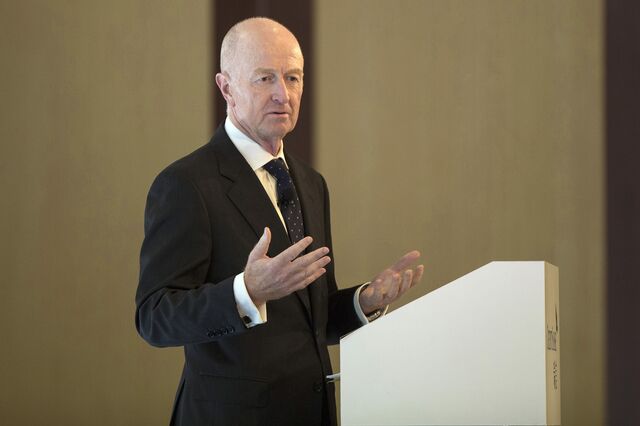 The last holdout to the U.S. dollar's world-beating rally is crumbling, and the derivatives market signals there's no relief on the way anytime soon.
Australia's dollar slid below 90 U.S. cents today for the first time since March as evidence of a slowdown in China and a weak domestic economy boosts the chances the South Pacific nation will hold interest rates at a record low. The U.S., meanwhile, is moving closer to raising borrowing costs. While the Aussie is the only Group of 10 currency to advance against the greenback this year, its gain has eroded to 1.2 percent from 6.5 percent at the start of July.
"This is the big dollar crushing all in its path," David Bloom, the global head of currency strategy at HSBC Holdings Plc in London, said by phone on Sept. 11. "The big dominoes have dropped -- the pound, euro, yen -- and that's now taking the smaller dominoes with it. The Aussie should've been lower anyway, so this is more of a reality check."
Until recent weeks, Australia's interest rates, which are the highest in the developed world after New Zealand, had allowed its currency to resist a rally in the dollar that pushed the euro and pound to their worst back-to-back monthly losses since early 2013. It's now suffering, too, as a faltering economy and a drop in the price of its key export, iron ore, mean less pressure on Reserve Bank of Australia Governor Glenn Stevens to raise rates.
Derivatives Outlook
Australia's dollar traded at 90.26 cents as of 12:10 p.m. in New York, taking its slide this month to 3.4 percent. It touched 89.84 cents, the weakest since March 12, down from a peak this year of 95.05 cents on July 1.
Derivatives traders are betting on further losses. The premium on options giving the right to sell the Aussie over those allowing for purchases widened to 2.06 percentage points on Sept. 10, the most since Dec. 18 and up from 1.02 percentage points in June, data compiled by Bloomberg show.
Morgan Stanley abandoned a call this month for the Aussie to reach parity with the U.S. dollar by year-end -- a forecast it made in June. The firm now expects the local dollar to end December at 95 cents, making it more bullish than the 92-cent median forecast of more than 50 strategists surveyed by Bloomberg.
'Early Stage'
The unwinding of bullish bets on Australia's dollar, as well as currencies such as Canada's dollar and those of developing nations, "still looks to be at an early stage," Citigroup Inc. foreign-exchange strategists wrote in a Sept. 12 report to clients.
Aussie weakness has coincided with a jump in the Bloomberg Dollar Spot Index to a 14-month high on Sept. 12. The gauge tracks the greenback against the Australian dollar and nine other major currencies.
Gyrations are picking up in the foreign-exchange market, threatening to erode returns for traders who seek to profit by borrowing in currencies with low interest rates and reinvesting the proceeds in those with higher rates. Such strategies tend to do best when price swings are low.
Deutsche Bank AG's Currency Volatility Index rose to a seven-month high of 7.68 percent on Sept. 10. In the developed world, Australia's benchmark rate of 2.5 percent is only exceeded by New Zealand's 3.5 percent.
'Whipping Boy'
"The Aussie will get hurt directly from U.S. dollar strength, but indirectly through some sort of return to more normal levels of market volatility," Ray Attrill, the global co-head of currency strategy at National Australia Bank Ltd. in Sydney, said by e-mail on Sept. 11.
Attrill said the Aussie will become the "whipping boy" of the G-10, dropping to 88 cents by year-end and 85 by June 2015.
Volatility in the $5.4 trillion-a-day currency market is increasing as the Fed moves closer to ending its bond purchase program next month, which had the effect of expanding the supply of dollars. The rate-setting Federal Open Market Committee begins a two-day gathering tomorrow. Futures show a 78 percent chance of an increase in the U.S.'s benchmark rate from a range of zero to 0.25 percent by the central bank's September 2015 meeting.
That marks a policy split with key developed nations. The Bank of Japan has said it remains ready to expand easing if needed and the European Central Bank is looking to increase the money supply in the region.
"The Australian dollar is increasingly vulnerable," Morgan Stanley wrote in an e-mailed note to clients on Sept. 7.
"Vol jumps, dollar rallies across the board," Geoffrey Kendrick, the company's head of Asian currency and interest-rate strategy in Hong Kong, said in a Sept. 10 phone interview, using a common abbreviation for volatility.
Slowing Growth
The Aussie's decline may be welcomed by RBA Governor Stevens, who said Sept. 2 that an overvalued currency is hampering the economy's transition from mining-led growth.
Gross domestic product expanded 0.5 percent in the second quarter, slowing from 1.1 percent in the previous three months, while prices of iron ore fell last week to a five-year low. Though a Sept. 11 report showed Australian employers added a record number of jobs in August, the increase was partly driven by a change in the survey group.
Data released Sept. 13 showed Chinese industrial production rose less than forecast in August, underscoring the risks of a deepening economic slowdown in Australia's largest trading partner.
'Remain Heavy'
The Aussie's decline is due "largely to the lower iron prices that we've seen and the weaker Chinese data," Joseph Capurso, a currency strategist at Commonwealth Bank of Australia in Sydney, said by phone today. "You're probably going to see it remain heavy until the FOMC meeting."
There's a less-than-even chance the RBA will raise rates by a quarter-percentage-point over the next year, a Credit Suisse Group AG index shows. That may help vindicate Aussie bears such as Bank of America Corp., which forecasts a more than 2 percent slide to 88 cents by Dec. 31.
"Australia's dollar was bought even though the fundamentals weren't strong, and it was never going to last," Shusuke Yamada, a Tokyo-based foreign-exchange strategist at Bank of America, said by phone on Sept. 11. "Now it looks like the RBA will get its way on the exchange rate. The Aussie is likely to be the weakest currency in 2015."
Before it's here, it's on the Bloomberg Terminal.
LEARN MORE