Borg Follows Reinfeldt Out of Swedish Politics After Defeat
Niklas Magnusson and Johan Carlstrom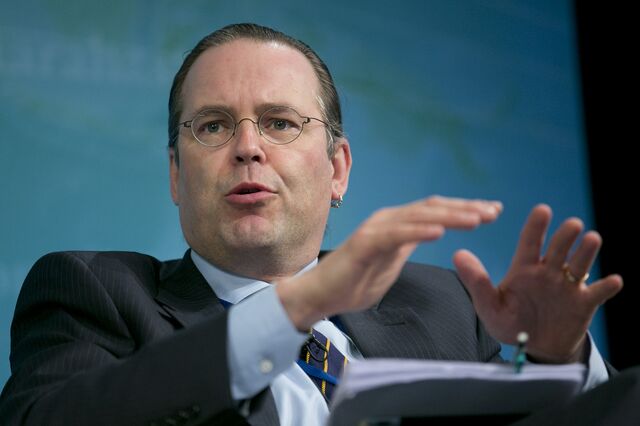 Swedish Finance Minister Anders Borg said he won't be a candidate for the Moderate Party leadership after Prime Minister Fredrik Reinfeldt announced he would resign following yesterday's election defeat.
Borg, 46, said he would leave party politics today in Stockholm after Reinfeldt handed in his resignation as prime minister to the speaker of the parliament.
"I don't intend to take on some other party-political role, and won't candidate as party leader," said Borg, who has been finance chief of the largest Nordic economy since 2006. He said he would try to find a new job that "resembles" the current one as soon as possible.
Borg's Moderate Party declined almost 7 percentage points to 23.2 percent in yesterday's election from 2010, hurt by a surge in support for the anti-immigration Sweden Democrats. As finance minister, Borg had been a vocal supporter of open borders and the benefits of immigration.
Reinfeldt, 49, and Borg, steered Sweden through the global financial crisis without breaching the European Union's budget or debt rules. The AAA-rated nation turned into an investor haven in 2012, driving down borrowing costs across the $550 billion economy. After successive rounds of tax cuts since 2006, Sweden now carries the world's fifth-highest tax burden relative to gross domestic product, versus the second-highest before Reinfeldt.
"We have had an incredibly strong cooperation" and "we have complemented each other" in a way that is "rather unique to experience in political life," said Borg, who before cutting his hair last year was known for his trademark pony tail and earing.
The four-party ruling coalition garnered just 39.3 percent of the vote yesterday, losing to the three-party Social Democratic opposition, which won 43.7 percent. Support for the Sweden Democrats more than doubled to 12.9 percent.
Before it's here, it's on the Bloomberg Terminal.
LEARN MORE