business
Electric Auto-Racing Series Makes Its Debut in Beijing
Christina Larson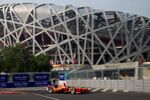 The world's first international, fully electric auto-racing event was held this Saturday in Beijing—the inaugural leg of the Formula E season, organized by Fédération Internationale de l'Automobile (FIA), the same folks who put on the famous Formula 1 races. "It's meant to promote emission-free racing and technical innovation in front of new audiences," as Roger Griffiths, FIA's director of motorsport development, told the auto-racing news site Racer.com.
The event featured racecars powered by electric batteries and capable of accelerating from zero to 60 miles per hour in three seconds, according to the organizers. All 10 teams used similar cars assembled by a French company, Spark Racing Technology, and showcasing battery packs made by the British company Williams Advanced Engineering and all-weather 18-inch tires made by Michelin.
"If you're an old gearhead and can't stand the idea of electric formula cars, that's OK; Formula E was not created with you in mind," said Griffiths. "If you're a fan of technology and want to be at the forefront of all things new and interesting, you're Formula E's target demographic." The 2014-15 racing season will travel to nine other cities worldwide, including London, Berlin, Monte Carlo, and Miami.
The companies supplying component parts are using the novel races as an opportunity to test new products and to promote their electric vehicle know-how. "For Michelin, the FIA Formula E Championship serves as an experimental laboratory for high-performance electric vehicle tires," as the company said in a statement. "These cars present several major challenges, such as the ability to withstand and transfer the instantaneous torque of electric motors."
Saturday's racetrack was a roughly two-mile loop through Olympic Park, swerving around landmarks built for the 2008 Beijing Olympics, including the Bird's Nest Stadium and the Water Cube athletics center. The winner, after 25 laps, was Brazilian driver Lucas di Grassi of the Audi Sport ABT team.
The race received little coverage in the mainstream Chinese press but was featured on local sports and automotive websites. As the auto section of popular chat and news service Tencent QQ put it, Formula E and electric vehicles "represent the future direction of the automotive industry."
Before it's here, it's on the Bloomberg Terminal.
LEARN MORE