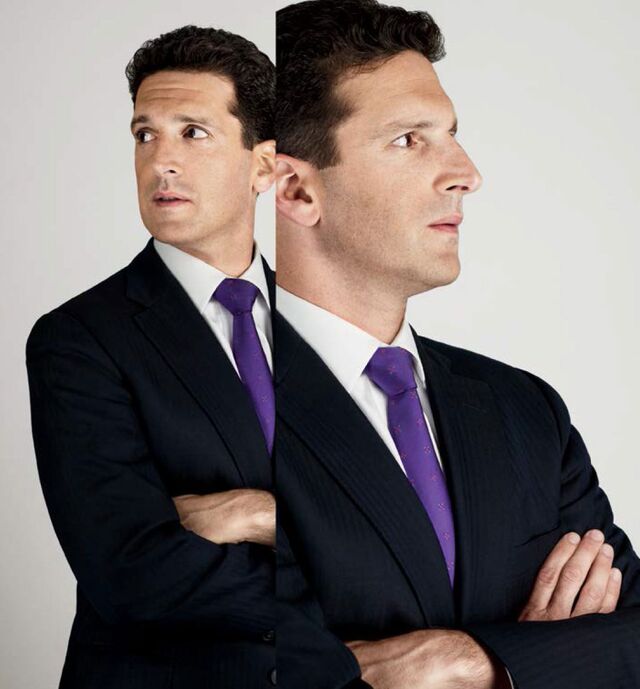 Negotiations had reached an impasse. On one side was BNP Paribas SA, France's biggest bank, with $2.5 trillion in assets. On the other was the New York Department of Financial Services, headed by Benjamin Lawsky. Talks between BNP and much bigger agencies, including the U.S. Department of Justice and the Federal Reserve, had gone on for months, with BNP agreeing to plead guilty to a criminal charge - - deliberately circumventing U.S. sanctions against Iran and Sudan -- and pay a multibillion-dollar fine.
Lawsky wanted more, including the dismissal of BNP executives and suspension of the French bank's ability to do transactions in U.S. dollars, Bloomberg Markets magazine will report in its October special issue on the 50 Most Influential people in global finance.
Lawsky's demands got attention at the highest level: The government of President Francois Hollande lobbied the Obama administration to limit the overall penalty, and Christian Noyer, head of the Bank of France, traveled to New York to personally meet with Lawsky.
In the end, a deal was worked out, with BNP agreeing to a limited suspension of its dollar-clearing privileges. Lawsky, for his part, had once again demonstrated the global power of his fledgling agency and his willingness to push hard for settlements on his terms.
Lawsky derives his sway from the fact that the world's leading financial institutions need to do business in the U.S., and many hold licenses issued by the state of New York. His department, created in 2011 by the state legislature, claims jurisdiction over 1,900 such companies. He has even proposed to grant "bitlicenses" to creators of bitcoins and other virtual currencies.
Former Prosecutor
Lawsky, 44, a former federal prosecutor who worked with New York Governor Andrew Cuomo when Cuomo was the state's attorney general, is the DFS's first superintendent. The agency combines two predecessors, the departments of banking and insurance. The new department has authority over banks licensed in New York and insurers based in the state. It also has enhanced power to regulate all financial products and services sold there, which has allowed Lawsky to extend his reach well beyond what the old banking and insurance departments could do.
The regulator, whose agency has the power to bring civil suits but not criminal actions, says the DFS benefits from being smaller and more agile than big agencies such as the Justice Department.
"We can test things out, do things out of the box," he says in an interview in his spartan offices in lower Manhattan. And he feels no compunction about refusing to follow what other agencies may recommend. "We will not go with the flow if it's just to go with the flow," he says. "Yeah, we're just a little old state regulator, but we won't do it that way."
Big Settlements
Eric Dinallo, who served as New York's superintendent of insurance from 2007 to 2009, says Lawsky's involvement in a series of big settlements has given the New York regulator an unusually high profile.
"I don't think anyone can dispute that in a short period of time, by emphasizing enforcement, consumer financial protection and an expansive reading of the term financial products, Lawsky's put the agency on the map on a national and international basis," Dinallo says.
Critics say Lawsky conducts his investigations by press release. BBC business editor Kamal Ahmed described Lawsky's technique this way in a June 30 column: "Evidence is published, and incendiary claims detailed." And even as it praised the result in the BNP case, a Wall Street Journal editorial on June 16 labeled Lawsky a "publicity hound."
Matt Anderson, a Lawsky spokesman, says: "Like most regulatory and law enforcement agencies, we announce some of the work we do to deter misconduct."
Press Salvo
It was through a salvo in the press that Lawsky first made his mark outside U.S. borders back in 2012. As representatives of the Justice Department, the Treasury Department, the Fed and the New York County District Attorney's office inched toward a settlement with London-based Standard Chartered Plc over allegations that the lender had also skirted U.S. sanctions against Iran, Lawsky struggled to make his voice heard, according to a person familiar with the matter.
Lawsky sent a deputy to a meeting of law enforcement and regulatory agencies to discuss progress on the case. The deputy told them that Lawsky couldn't understand why, more than a year after the investigation was completed, the case wasn't settled. The deputy, this person says, delivered an ultimatum: If the other regulators didn't move forward on Standard Chartered in a timely fashion, Lawsky was prepared to act on his own.
The warning was ignored, the person says. So on Aug. 6, 2012, Lawsky sent a letter to Standard Chartered cataloging its alleged illegal wire transactions for Iranian clients and demanding to know why he shouldn't rescind its license to operate in New York. He released the letter to the media.
Caught Flat-footed
The broadside caught the bank's executives by surprise and sent Standard Chartered's shares down 16 percent for the day. Lawsky's move also left prosecutors and his fellow regulators from Treasury and the Fed flat-footed, according to people familiar with the matter. They were informed only hours before the letter was released. Lawsky's pre-emptive strike fractured his relationships with the Justice Department, the Fed and Manhattan District Attorney Cyrus Vance Jr., according to people briefed on the matter.
Eventually, Standard Chartered reached a $340 million settlement with Lawsky's office and agreed to hire a monitor. In late 2012, the bank struck a $327 million settlement to resolve the same issues with other regulators.
Last month, Lawsky censured Standard Chartered once more, assessing a $300 million penalty following revelations that the bank was not identifying all the high-risk transactions it was executing around the world.
The list of financial giants against which Lawsky has taken enforcement actions is long. It includes Credit Suisse Group AG, Deloitte Financial Advisory Services LLP, insurance giant MetLife Inc. and Royal Bank of Scotland Group Plc. On Aug. 18, Lawsky's office announced that a consulting arm of accounting firm PricewaterhouseCoopers had agreed to pay a $25 million fine and to stop taking on certain new business assignments from New York–regulated banks for two years.
In Your Face
PricewaterhouseCoopers agreed to the settlement after Lawsky uncovered evidence that it had agreed to remove language from a 2008 report implicating Bank of Tokyo-Mitsubishi UFJ Ltd., one the world's largest financial institutions, in circumventing U.S. sanctions against Iran and other countries.
Lawsky honed his in-your-face style while working for some assertive politicians. After starting his career as an attorney in the Justice Department's civil division, he was hired in 1999 by U.S. Senator Charles Schumer of New York as chief counsel. Then, from 2001 to 2007, Lawsky served as a federal prosecutor in the Southern District of New York, where he worked with Preet Bharara, then an assistant U.S. Attorney and now chief prosecutor. Cuomo, who was elected New York attorney general in 2006, hired Lawsky as a special assistant and deputy counsel.
In the wake of the financial meltdown, Lawsky led some of the state's highest-profile investigations of Wall Street, including the takeover of Merrill Lynch by Bank of America and the collapse of the auction-rate securities market.
Marathon, Triathlon
A Pittsburgh native, Lawsky was captain of his high school basketball team. He graduated from Columbia University in New York with a degree in art history and then matriculated at Columbia's law school. An active athlete, he has run in the New York City Marathon and in August competed in the West Point Triathlon. His wife, Jessica Roth, who also worked as a federal prosecutor in Manhattan, teaches at the Benjamin N. Cardozo School of Law at Yeshiva University in New York.
Standard Chartered isn't the only firm to watch its stock drop after Lawsky started a public inquiry. Earlier this year, he launched a probe of Atlanta-based mortgage servicer Ocwen Financial Corp. In a letter released to the media on Feb. 26, he questioned why the company funneled so much business to firms controlled by Ocwen Chief Executive Officer and Chairman William Erbey.
The company's shares dropped 7 percent that day and were down 50 percent for the year as of Sept. 12. Ocwen is seeking to acquire the right to service $39 billion in mortgages held by Wells Fargo & Co. -- a move Lawsky has blocked. Ocwen says it's cooperating with Lawsky's probe.
Wounding Nationstar
In March, Lawsky also made public a letter to Nationstar Mortgage Holdings Inc. asking the Lewisville, Texas–based mortgage servicer for details of its foreclosure practices. Shares in Nationstar dropped to $29 from $32 in 20 minutes and were down 12.6 percent for the year as of Sept. 12. Nationstar also says it is cooperating.
Kyle Bass, founder of hedge-fund firm Hayman Capital Management LP, which owns more than 5 percent of Nationstar's shares, complains that such actions punish investors before any wrongdoing has been proven or even alleged.
"I like what he's doing, because he makes our markets better," Bass says of Lawsky. "But if you're going to conduct a fact-finding mission, do it in private."
Not Too Big
Lawsky kept his press releases in check while helping negotiate the BNP settlement.
The bank ultimately agreed to the criminal guilty plea and a record-setting $8.9 billion fine, more than $3 billion of which will go to New York state. In exchange for the guilty plea -- which the Justice Department sought to prove that no bank was "too big to jail" -- Lawsky agreed not to pull BNP's New York banking license.
All that was left to resolve was Lawsky's demand for the suspension of the bank's ability to execute foreign trades using U.S. dollars. After meeting with French central bank head Noyer, Lawsky settled for a targeted, temporary suspension of dollar-clearing privileges at the BNP offices in Paris, Geneva, Milan, Rome and Singapore, where the sanctions violations originated.
On June 13, Anthony Albanese, Lawsky's chief of staff, traveled to Paris to present the plan to European regulators. He joined a U.S. delegation that included Thomas Baxter of the Federal Reserve Bank of New York and other U.S. banking officials. Bank regulators from Belgium, France, Italy, Switzerland and the U.K. peppered Albanese with questions. Afterward, they all lunched together. The final hurdle to an agreement had been cleared.
Seat at the Table
The BNP negotiations cemented Lawsky's future role.
"Lawsky has a seat at the table, and he can be a legitimate participant in ways people didn't imagine before," says former insurance superintendent Dinallo, who's now a partner at law firm Debevoise & Plimpton LLP.
Lawsky says his tough stand in the 2012 Standard Chartered case helped ease the way to a more cooperative effort on BNP.
"It wasn't the intent," he says. "That was definitely the consequence of what we did."
U.S. Attorney Bharara says the BNP settlement, announced on June 30, was a model of interagency cooperation compared with the Standard Chartered food fight.
"One of the great stories out of the BNP resolution is that a number of different prosecutors and regulators behaved maturely and with a common goal and wisdom and got a result that would in the past have been undoable," Bharara says. "Everyone was kept on the reservation."
Future Battles
Lawsky isn't issuing any guarantees that there won't be future battles with his fellow regulators.
"It's hard to stand up and say, 'That's a terrible idea, and we're just not going to do it,'" he says. "But if you're willing to say that, people realize you'll put your money where your mouth is. You'll get a better response over time."
Before it's here, it's on the Bloomberg Terminal.
LEARN MORE