Clinton Hints at 2016 Run as super-Pac Packs Steak Fry
Jonathan Allen and John McCormick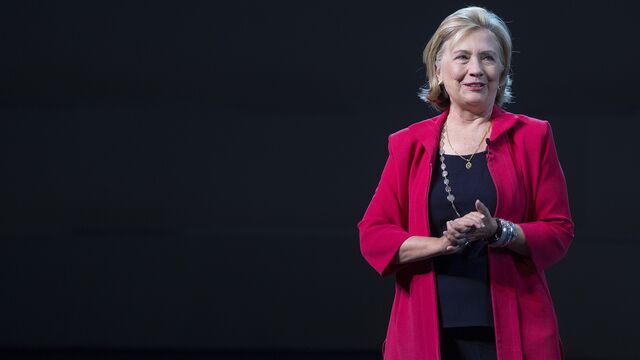 Hillary Clinton, an unofficial candidate with a juggernaut shadow campaign, stepped into the light of a potential 2016 presidential race on a sunny Sunday in Iowa, signaling with her appearance -- and repeated teases -- that she's ready to run.
"It's great to be back, but let's not let another seven years go by," said Clinton, who was last in Iowa after finishing third in the January 2008 state caucuses.
Clinton drew the loudest cheers yesterday at Senator Tom Harkin's 37th and final Steak Fry in Indianola, the most overt political event she's participated in since becoming President Barack Obama's secretary of state in 2009.
Appearing on stage with her husband, former President Bill Clinton, she said Democrats must focus on the 2014 midterm election -- even as she flirted with her own presidential ambitions.
"I've got a few things on my mind these days," she said, before pausing for some audience applause.
The real tell is that Clinton's political machine was already humming in the background, and many Iowa Democrats say she's a prohibitive favorite to win both their caucuses and the party's nomination. That's a remarkable turnaround for a candidate who finished third in Iowa in 2008, one that reflects a change in her approach to campaigning and a tectonic shift in the way Obama Democrats perceive her.
Obama Disappointment
"A lot of people, myself included, have become disillusioned with a lot of what Obama's done versus what he ran on," said Iowan Charlie Brinkerhoff, 71, who backed Obama over Clinton in 2008. "They think they might have made a mistake."
With Iowa Democrats moving toward her, a network of pro-Clinton operatives spent the weekend organizing supporters and schmoozing with national political reporters in the bars, hotel lobbies and steak joints of Des Moines. In 2008, Obama out-hustled Clinton, building a grassroots organization that carried him to victory. Now, it's Clinton who has the organizational jump on the Democratic field, without having formed a campaign.
Ready for Hillary, a pro-Clinton super-political action committee, organized college students from across Iowa, supplying tickets and T-shirts, and then bused them to the steak fry. Even though Clinton says she won't announce whether she's running until next year, Ready for Hillary has collected contributions from almost 800 Iowans, according to Seth Bringman, its communications director.
Iowa Letdowns
The Iowa caucuses have never been a field of dreams for the Clintons. In their previous campaigns, Bill Clinton and Hillary Clinton have skipped the state, been encouraged to skip the state and most recently recorded the third-place finish.
If all goes well for Hillary Clinton, she'll be able to look back at yesterday's steak fry as a turning point.
Organizers said 10,000 meals were served and about 6,200 people purchased tickets, the biggest attendance since 2007, when Clinton and Obama, then the junior senators from New York and Illinois, shared the stage with other prospective 2008 presidential candidates.
Maryland Governor Martin O'Malley, who has signaled interest in a 2016 bid, appeared at the steak fry in 2012. Vice President Joe Biden, who will be in Iowa later next week, headlined the event a year ago.
It was the first of several political appearances the Clintons will be making in the next seven weeks ahead of the midterm elections.
Poll Leader
More than half of registered Iowa Democratic voters -- 53 percent -- say they'd vote for her in 2016, according to a CNN/ORC International poll released Sept. 12. She dominates others in the potential field, including Biden, whose support was 15 percent, U.S. Senator Elizabeth Warren of Massachusetts at 7 percent and independent U.S. Senator Bernie Sanders of Vermont at 5 percent.
Sanders held three town halls in Iowa this weekend while drawing little if any attention away from Clinton. Some Democrats said they worry that Sanders might run as a third-party candidate and drain votes from the Democratic nominee. Sanders, during an appearance yesterday on NBC's "Meet the Press," said he could run as a Democrat or independent.
There's "profound anger at both political parties" and "more and more people are becoming independent," he said.
Although Clinton's more than six-year absence may have left some Iowa Democrats feeling jilted, prominent Iowa Democrats say all could be forgiven should she campaign in the state in 2015.
Iowa Visits
"People understand that she couldn't come here in a political context when she was the secretary of state," said Iowa Attorney General Tom Miller, who was one of Obama's earliest top supporters in the state in 2007. "It's a cumulative thing. She and her husband have spent their time in Iowa."
They've also had their share of hesitancy over the years about campaigning in the quirky and unpredictable Iowa caucuses.
In 1992, Bill Clinton basically skipped the caucus campaign, ceding Iowa to Harkin, who was also running for the Democratic nomination that year. In 1996, as the incumbent president, Clinton had no competition and didn't have to build a grassroots organization in the state.
In 2007, Clinton arrived without much of an existing network and Obama out-worked and out-organized her. He won the caucuses and knocked the front-runner off her stride.
In retrospect, Clinton should have taken the advice of her then-campaign manager, Mike Henry, who wrote a May 2007 memo that later leaked to the media suggesting that she skip Iowa and spend her campaign money elsewhere.
Old Advice
"If she walks away from Iowa she will devalue Iowa — our consistently weakest state," he wrote. Henry's advice was never accepted and the Clinton campaign publicly repudiated it.
Gordon Fischer, a former chairman of the Democratic Party of Iowa who endorsed Obama in 2007, said he doesn't see a scenario where someone could overtake Clinton.
"I'm not sure there would be enough time," he said. "It's hard for me to imagine because she is so well known and well respected by Iowa Democrats and will have so much money."
That said, Fischer predicts retail campaigning will be awkward for Clinton because she's even more of a celebrity than in 2007 and 2008.
"It's tough to walk into a diner or the basement of a church and have small group meetings with her," he said. "But as challenges go, it's a pretty good one to have."
Before it's here, it's on the Bloomberg Terminal.
LEARN MORE