Carney Steering BOE in Scots Vote as Quebec Casts Shadow
Jennifer Ryan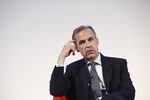 Mark Carney's history is catching up with him.
Having watched Quebec's attempt to break away from his native Canada in 1995 while working at Goldman Sachs Group Inc. in London, the Bank of England governor now finds himself in the thick of a splinter campaign. Drawn into the fray of Scotland's referendum, he's facing his biggest test yet: the possible dissolution of the United Kingdom.
Scots go to the polls in three days, and with the latest surveys making the vote too close to call, Carney will cut short a trip to international meetings in Australia this week to help shore up financial stability in the event of a "yes" vote.
"Given where he comes from, and the context, he's one of the central bankers that can move quickly to prepare for an alternative scenario," said Stefane Marion, chief economist and strategist at Montreal-based National Bank of Canada Financial, who worked in Canada's finance department before the 1995 referendum. "He would have a rough idea of how the whole process went about in Canada. It was always about: how do you prepare for the alternative?"
Apart from telling lawmakers that he has contingency plans and a strategy to cope if Scots opt for independence, Carney refused to reveal any details. Staying politically neutral has proven more of a struggle.
Big Reserves
Pro-union "no" campaigners last week seized on his comments to lawmakers that an independent Scotland is incompatible with the use of the pound. In a blow to the economic case for "yes," Carney also pointed out the reserves needed to back a credible Scottish central bank would probably exceed the size of the nation's economy.
"His challenge is to retain the integrity and the independence of the BOE, and so far, with what he's said about reserves, all the way through he's been very straight down the line," said Grant Lewis, an economist at Daiwa Capital Markets in London. "Carney could do without this vote. It's a risk to financial stability that he'll have to deal with."
Should Scots vote for independence this week, the BOE is on the hook to address any financial stability issues during the 18-month transition. The central bank will remain lender of last resort during that period. The Scottish-domiciled financial industry's assets total more than 1 trillion pounds ($1.63 trillion), about 10 times the country's gross domestic product.
The biggest risk in the event of a "yes" vote is capital flight, according to 75 percent of economists in a Bloomberg News survey. How to divide assets and liabilities, including North Sea oil and gas, poses the next-biggest risk, chosen by 63 percent.
London Draw
Some respite for the governor came last week, when Royal Bank of Scotland Group Plc and Lloyds Banking Group Plc, Scotland's two biggest lenders, said they plan to relocate to London in the event of a split.
"That will make Carney happier, because it makes runs on those banks less likely," Daiwa's Lewis said.
Still, the governor will probably find himself dragged into negotiations that shape the landscape after partition; the Scottish National Party insists an independent country would be able to keep using a pound backed by the BOE, while leaders of the three main U.K. political parties say it can't.
And even if voters choose "no," the stakes remain high.
In Canada, "the prospect of another referendum is a constant risk," said Charles St. Arnaud, an economist at Nomura Securities International Inc. in London and a former Bank of Canada official. "There should be a book on what the reaction should be, and as governor, he probably would have read it."
Currency Support
At the Canadian central bank, where Carney was governor for more than five years, the legal, economic and banking operations would have to have been working together to assess the impact on the economy, Arnaud said. The bank would also have considered the possibility of intervening to support the currency, something the BOE might be looking at, he said.
The pound, already suffering its worst month in more than a year, has the potential to tumble 10 percent if Scots break away, according to economists surveyed by Bloomberg.
In 1995, as the polls in Canada narrowed, NBF's Marion said officials worked harder to provide briefing materials to politicians, the public and investors. Topics included government debt and liquidity conditions, all with an eye to limiting any economic or interest-rate shock.
Union Fears
That plebiscite was also on a knife edge, with the "no" vote winning by 50.6 percent to 49.4 percent, or fewer than 60,000 votes. For Scotland's vote, four polls were released over the weekend, three of which showed the "no" campaign ahead. The fourth, a survey by ICM Research for the Sunday Telegraph, put "yes" in front by the greatest-ever margin.
Prime Minister David Cameron is visiting Scotland today, his second trip in a week, to ask voters not to "rip" the nation from the rest of the U.K. He'll tell voters "there's no going back from this, no re-run," according to prepared remarks released by his office. "If Scotland votes yes, the U.K. will split, and we will go our separate ways forever."
Still, the situation Carney confronts may not be as complicated, nor the consequences as dire, as those once faced by Mario Draghi.
During the depths of the financial crisis, the European Central Bank President had to repeatedly state that the departure of a member state such as Greece was not an option and that the currency union would remain intact.
"If Scotland left we'd find a way to cope and deal, but if Greece had left the euro zone that could have been terminal for the euro project," said Stewart Robertson, an economist at Aviva Investors Ltd. in London. "I think Carney's thinking, 'Blimey, I didn't sign up for this.'"
Before it's here, it's on the Bloomberg Terminal.
LEARN MORE