Austria Can't Rescue Volksbanken With More Aid: Schelling
Boris Groendahl, Zoe Schneeweiss and Rainer Buergin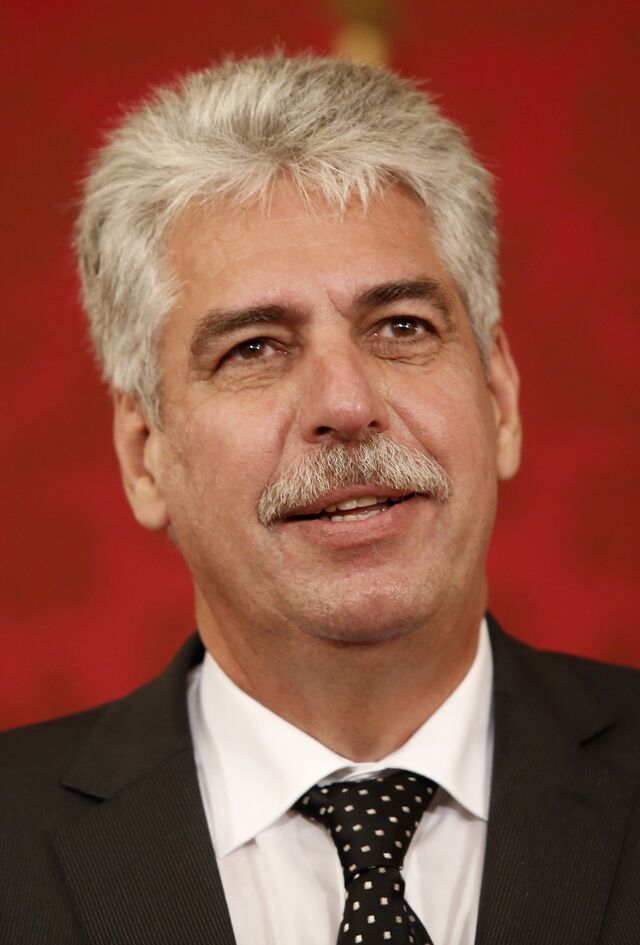 Austrian Finance Minister Hans Joerg Schelling said the country can't support partially nationalized Oesterreichische Volksbanken AG again if the European Central Bank finds its capital insufficient.
"Technically, I can't give any more subsidies, because they would immediately trigger a new state-aid procedure," Schelling said in an interview in Milan. "I have no room to maneuver under the current European Union state-aid case."
Volksbanken-Verbund, the combination of OeVAG and about 50 regional cooperative banks that own its majority, will "likely" fail the health check the ECB is conducting before it begins to supervise euro-area banks on Nov. 4, Fitch Ratings said this month. It may have a capital shortfall of 600 million euros ($778 million) to 800 million euros, Der Standard newspaper reported Aug. 28.
The European Commission approved two tranches of state aid for OeVAG totaling 1.35 billion euros in 2012, and the bank's restructuring plan underlying the approval doesn't foresee future aid injections. Austria owns 43 percent of the bank following the 2012 rescue after a first bailout in 2009. An OeVAG subsidiary was rescued in 2008.
Schelling, who was OeVAG's supervisory board chairman until last week, declined to comment on the ECB test outcome. He said that when looking at the results, it will be important to keep in mind that OeVAG is in the process of selling assets and ending all business that goes beyond servicing its local bank owners, as agreed with the EU.
'Wind-down Bank'
"A stress test for a wind-down bank that's under the supervision of the European Commission due to a state aid procedure -- that's not comparable to a stress test for a commercial bank," he said in the Sept. 12 interview. "OeVAG is evaluated on the basis of its static end-2013 data, but it reduced its assets by another 2 billion euros in the first half of 2014. One should urge for those effects to be considered."
Austrian regulators are considering moving OeVAG's non-performing assets into a bad bank that's being set up for nationalized Hypo Alpe-Adria-Bank International AG, two people with knowledge of the situation said last month.
Assets including OeVAG's Romanian unit, corporate and real estate loans could be moved, said the people, who asked not to be identified because the discussions are private. That would improve capital ratios and reduce the need for writedowns if the group of cooperatives led by OeVAG fails the ECB's Comprehensive Assessment next month, they said.
'Solve Properly'
The International Monetary Fund, in its annual assessment of the Austrian economy released today, warned Volksbanken may need more capital because of the ECB test and urged "speedy asset disposal, including of its Romanian subsidiary" and mergers of the Austrian local cooperative banks.
Schelling said he will meet with OeVAG, the FMA regulator and the central bank next week to discuss "models to solve the problem properly," without elaborating.
The bad bank move is one of the options circulated by Austrian bank regulators to deal with OeVAG's capital needs. It has yet to be discussed by the government led by Chancellor Werner Faymann, which underwent a major reshuffling this month, including Schelling's appointment as finance minister.
Dealing with Volksbanken is complicated by the fact that the cooperative is ultimately owned by some 700,000 of its clients and that about 13 billion euros of retail deposits are held at the banks. When it was bailed out in 2012, Faymann's Social Democrats suggested that retail owners also share some of the losses. That plan wasn't pursued at the time.
"We'll have to live with whatever comes out of the stress test," Schelling said.
Before it's here, it's on the Bloomberg Terminal.
LEARN MORE