Wisconsin Urges Voter ID Restoration Ahead of Elections
Andrew Harris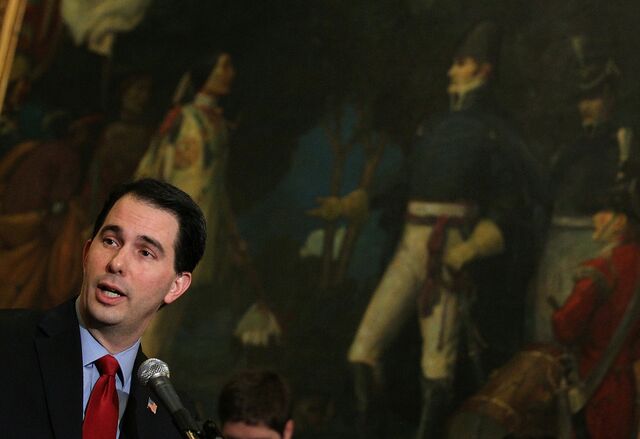 Wisconsin urged a federal appeals court to reinstate in time for the November elections a voter photo-identification law thrown out by a judge who said it discriminates against blacks and Latinos.
A federal judge in Milwaukee blocked the law in April, ruling it places an unfair burden on the minority poor who lack the means to pay for the documentary proof needed to obtain the requisite government-issued ID.
Clayton Kawski, a Wisconsin assistant attorney general, today asked a three-judge panel of the U.S. Court of Appeals in Chicago to immediately reinstate the measure in time for the Nov. 4 balloting while they weigh his argument for reversal of the lower-court ruling.
Republican Governor Scott Walker signed the provision into law in 2011. A potential 2016 contender for the Republican presidential nomination, he is locked in a tight race for re-election against Democratic challenger Mary Burke, a former Trek Bicycle Corp. executive.
"This law makes common sense," Kawski said. He told the panel, composed of Republican presidential appointees, that he was required to show a photo ID to get into the courthouse as he would be to board a commercial airliner or to buy cough medicine at a drugstore.
"All of these activities are less important" than voting, Kawski said.
Opponents of the Wisconsin law and those like it proposed in the run up to the 2012 presidential election contend they are meant to dissuade traditional Democratic Party voters from going to the polls. In Texas, a trial over that state's voter ID law is under way in Corpus Christi.
Vote Fraud
Supporters argue they are meant to fight voter fraud. "This law makes it much more difficult for somebody to come in and say they're someone else," Kawski told the court.
Wisconsin has more than 3.3 million registered voters, according to the state's Government Accountability Board. More than 90 percent of them have the required identification, the state said in a court filing. There are 300,000 who don't have it, according to an opposing filing by the American Civil Liberties Union, which sued to invalidate the law.
Hearing today's arguments were U.S. Circuit Judge Frank Easterbrook, a 1985 nominee of President Ronald Reagan, and George W. Bush appointees Diane Sykes and John Tinder. They gave no indication of when they would rule.
Lead Time
ACLU lawyer Dale Ho, opposing immediate reinstatement of the law, said it was meant to have a nine-month implementation period.
With absentee ballots scheduled to be mailed to voters next week, Ho said, it would be inappropriate to implement the law "on the eve of an election."
Attorney John Ulin, who sued separately on behalf of the League of United Latin American Citizens of Wisconsin, called the provision "a troubling blend of politics and race" that threatens to abridge a fundamental democratic right.
Voter impersonation fraud is a "phantom" issue, and no evidence of it was produced at the trial in Milwaukee last year that led to U.S. District Judge Lynn Adelman's contested ruling.
Sykes and Easterbrook questioned attorneys for both sides about the significance of evidence produced at trial. It showed that eligible black voters were about 2 percentage points more likely than their white counterparts to lack both a photo ID and the documentary proof needed to get one, and that Latino voters were about 3 points likelier than whites to lack them.
Data's Weight
Kawski told Easterbrook that the disparity wasn't enough to prove the requirement was an undue burden.
"If you don't have the photo ID, you're not going to be able to vote," the judge replied.
Kawski also told the court that the state announced provisions yesterday under which its motor vehicle department will help voters obtain the needed papers.
The Wisconsin Supreme Court upheld the law in a pair of July rulings, one of which required the motor vehicle department to aid the poor in obtaining the required IDs.
The cases are Frank v. Walker, 14-2058, and League of United Latin American Citizens of Wisconsin v. Deininger, 14-2059, U.S. Court of Appeals for the Seventh Circuit (Chicago).
Before it's here, it's on the Bloomberg Terminal.
LEARN MORE