Vikings' Peterson Released After Child-Injury Indictment
Laurel Brubaker Calkins and Eben Novy-Williams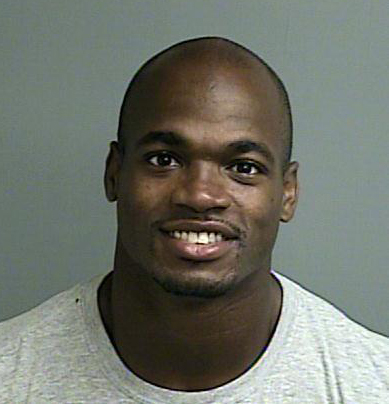 Minnesota Vikings running back Adrian Peterson, a six-time pick as a top National Football League player, turned himself in and was released after being indicted by a Texas grand jury on a charge of hitting his son with a switch.
Peterson, 29, was booked at the Montgomery County jail north of Houston and released on $15,000 bond, Sheriff's Office Lieutenant Brady Fitzgerald said today. Peterson's son is four years old and allegedly suffered cuts and bruises to his back, buttocks and legs, according to CBS Houston, citing unidentified law enforcement sources.
Peterson's indictment capped a week that began with Ray Rice being released by the Baltimore Ravens and banned indefinitely by the NFL after video emerged of the running back knocking out his then-fiancee with a punch inside an Atlantic City, New Jersey, casino elevator. The couple has since married.
Peterson used a switch -- a thin branch or stick used for corporal punishment -- to punish his son, defense lawyer Rusty Hardin said yesterday in an e-mailed statement.
"Adrian is a loving father who used his judgment as a parent to discipline his son," Hardin said. "He used the same kind of discipline with his child that he experienced as a child growing up in East Texas."
The Vikings said in a statement that Peterson, the league's Most Valuable Player in 2012, won't play in tomorrow's game against the New England Patriots.
Possible Punishment
Peterson could face up to two years in prison and a fine of as much as $10,000 if convicted of the charge, Montgomery County First Assistant District Attorney Phil Grant said today at a news conference. Probation is also an option for those with no criminal record, Grant said.
"A grand jury, having indicted this case, looked at the injuries that were inflicted upon this child and determined that that discipline was not reasonable," Grant said at the news conference. "The Montgomery County's District Attorney's office will take this charge extremely seriously, and we look forward to presenting this case to a jury at the appropriate time."
Peterson cooperated fully in the investigation and voluntarily testified before the grand jury for several hours, Hardin said.
"It is important to remember that Adrian never intended to harm his son and deeply regrets the unintentional injury," defense lawyer Hardin said.
Selected Seventh
Selected seventh overall by the Vikings in the 2007 NFL draft, Peterson has twice led the league in rushing, including 2,097 yards in 2012. He's scored at least 10 touchdowns in each of his seven full NFL seasons.
Among active players, Peterson is first in rushing touchdowns (86) and second in yards rushing (10,190).
Last October, Peterson's 2-year-old son Tyrese died after being hospitalized with severe head injuries. The boyfriend of Tyrese's mother was charged with second-degree murder, manslaughter, aggravated assault and aggravated battery in the child's death.
Peterson in 2011 signed a seven-year deal with the Vikings worth $100 million, according to USA Today. The contract included $36 million guaranteed, the newspaper said.
The indictment follows by days the contrversy over Rice. NFL Commissioner Roger Goodell has become a target of women's advocacy groups, who want him removed from office for initially banning Rice for only two regular-season games.
Pressure on Goodell increased after he said no one in the league had seen the video of the punch before it was published by TMZ Sept. 8.
The Associated Press reported two days later that a law enforcement official it didn't identify sent the footage to the NFL in April.
Before it's here, it's on the Bloomberg Terminal.
LEARN MORE