Grades Don't Matter Much if You're Using Your MBA to Advance Neurosurgery
by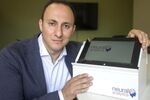 An increasing number of young professionals see the MBA as a path to an entrepreneurial career. It's important, however, to look outside the confines of a business school to what its parent university can offer. As schools look to commercialize their research and patents, natural opportunities emerge for MBAs to collaborate with students in other disciplines.
That was the thinking for Leo Petrossian, a Ph.D. in biomolecular nanotechnology from Arizona State, whose engineering and science background took him to a biotech startup in Silicon Valley before he pursued an MBA at UCLA's Anderson School of Management. He co-founded Neural Analytics, which licenses a technology developed by the department of neurosurgery at UCLA that makes it possible to diagnose conditions stemming from traumatic brain injury—without brain surgery.
Over the course of his MBA, Petrossian used fellowships, loans, and prizes from business plan competitions to start his company. Before he graduated from Anderson, I asked him about what it took to connect science and business. An edited transcript of our conversation follows. Click here for a video of the complete interview.
Why was it important to attend a business school that's part of a larger research university?
My entrepreneurial technique is to license technologies from universities. The last startup company I was at licensed technology from Brown University, and I was previously at startups that licensed technologies from Harvard and Cornell. Universities have hundreds, if not thousands, of patents that are available to license, and good research universities really have some wonderful inventions. So I chose to come to UCLA because they have an amazing medical program here, and I'm interested in medical technology and entrepreneurship.
In co-founding Neural Analytics, how are you using the business skills from your MBA?
It is easy to fall into the mentality of a technologist. An engineer sees something sparkly and something that works and wants to make it for themselves. But oftentimes what you want to build is not what people are willing to pay for. My favorite class in business school was in marketing. I loved marketing. It was the class that taught me that what you build may not be what people want. You have to figure out what people want and need, and deliver that. That should dictate where you go, not what's personally interesting to you.
Other than that, various other skills come into it: obviously financial planning, projections, the ability to present yourself, doing the industry research behind it, and building a project management-style plan to execute on your vision—all these skills have been invaluable. I could not have made so much progress without the foundations that business school has given me.
Is it a challenge to be an entrepreneur within business school when you are eager to get out into the bigger world?
It's challenging, yet incredibly rewarding. As a lifelong student I would like to say that I care about my grades and work really hard for them, but the truth is, they've taken a back seat to my entrepreneurship. Every time I have doubts about my grades or how much I am focusing on my studies, I look back at my application essays. It doesn't say I am coming to business school to get straight A's; it says I am coming to business school because I want to start a medical device company. With that knowledge in mind I go and I execute as well as I can in my venture, and I do as much as I need to do to be a good student.
Before it's here, it's on the Bloomberg Terminal.
LEARN MORE