If the NFL Were a Real Business
By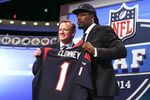 The National Football League is not formally a business. Technically, it is a nonprofit organization that funnels money back to the individual teams that make up the league. As a whole, the NFL's revenue is estimated to be about $9.5 billion per year. The overall market value of the 32 teams that make up the league is estimated to be $46 billion.
So if the NFL were a real company—let's say, for the sake of argument, with a market capitalization of $46 billion, based on its teams' total value and annual revenues of $9.5 billion—which companies would it most resemble? Looking at the 14 Standard & Poor's 500-stock index 500 companies with the most comparable revenue numbers (from $9 billion to $10 billion), the NFL has, by far, a higher market cap than any of them:

However, compared to the 19 companies with most similar market caps (from $40 billion to $50 billion), the NFL has one of the smallest revenue bases. It would rank behind 17 of the companies in terms of the amount of money it brings in.

At its hypothetical market cap of $46 million, the NFL would be the 106th-biggest company in the S&P 500, but its revenue ranking would place it much lower—around 255th. The huge ranking gap, from revenues to market cap, reflects the benefit of having a limited product supply (only 32 teams to purchase and just 16 games to watch on TV each week) and a dominant position in its competitive set. The NFL is much more important to the national culture and to its major TV partners than basketball and baseball are.
The heightened market cap also reflects a belief in the prospects for football revenue growth in the next decade. Commissioner Roger Goodell has set a $25 billion revenue target to be hit by 2027. Again hypothetically, an NFL with $25 billion in annual revenue would be worth $121 billion in market cap. That compares to the current size of Home Depot, the 35th-biggest company in the S&P 500.
And if the NFL were a real company, Goodell would be one of the country's highest-paid chief executive officers. But that's another story.
Before it's here, it's on the Bloomberg Terminal.
LEARN MORE