Texas Claims Abortion Restrictions Don't Pose Burden
Daniel Lawton and Laurel Brubaker Calkins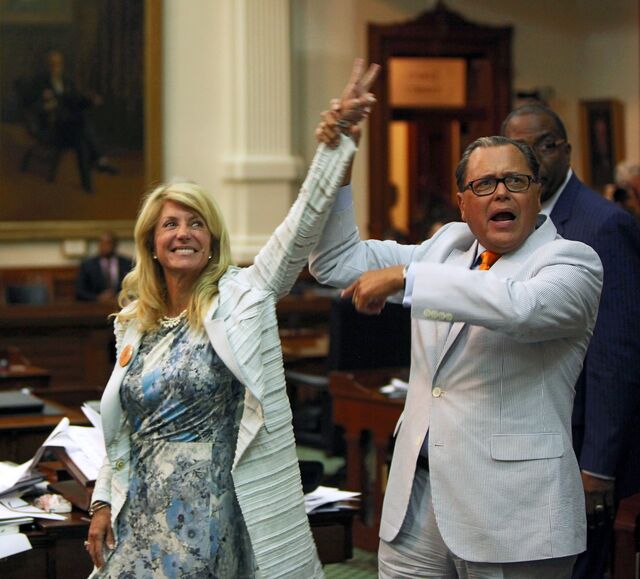 A Texas law restricting abortions which would leave open only seven or eight clinics doesn't place an undue burden on women's rights, a state official argued in a bid to enforce a law previously ruled unconstitutional.
Texas asked the U.S. Court of Appeals in New Orleans today to let it require that abortion clinics meet the same construction standards as outpatient surgical centers while the court considers its appeal. A lower court threw out the law as unconstitutional. Opponents argued that enforcement of the overturned law would cause more than a dozen clinics to close overnight. The three-judge panel didn't immediately rule on the Texas request.
"There have been no abortion clinics in the Rio Grande Valley for 10 1/2 months and they have found no evidence of an undue burden," Jonathan Mitchell, Texas's solicitor general, told the panel, noting the standard by which access to abortion is measured. "They haven't shown a large fraction of the state's abortion patients will have to travel long distances."
Similar legislation has been challenged in Alabama, Louisiana and Mississippi, and the U.S. Supreme Court may have the final word on the validity of the laws. The Texas law, one of more than 200 abortion restrictions adopted nationwide since a Republican-led, state-legislative push began in 2011, was passed in July 2013 after Democratic Senator Wendy Davis staged a filibuster that made her a national figure and propelled her campaign for governor.
Constitutional Rights
U.S. District Judge Lee Yeakel, appointed by Republican President George W. Bush in 2003, ruled in August that Texas's construction requirement for abortion clinics, when combined with requirements for their doctors to have local hospital admitting privileges, violated women's constitutional right of access to an abortion.
"Neither one of these requirements actually furthers a state interest," Stephanie Toti, a lawyer for Whole Women's Health, which sued the state, told the appeals panel today. "These seven or eight facilities couldn't meet the statewide demand previously met by 41 clinics."
The changes would force enough clinics to close that abortion would become effectively unavailable in wide swaths of the second-largest state, Yeakel said in his Aug. 29 decision. The law would've taken effect Sept. 1 without his intervention.
"Just the decreasing number of clinics doesn't show us that women face an undue burden, does it?" U.S. Circuit Judge Jennifer Walker Elrod asked.
Ample Evidence
"There's ample evidence in the court record a decline in the abortion rate occurred after 20 of the state's 41 abortion clinics closed," Toti said.
Texas had accused Yeakel of making an end run around the appellate court's 2013 decision that upheld Texas's admitting-privileges rule, which requires that doctors gain permission to admit patients at a hospital within 30 miles of the clinic where they perform abortions.
The state also claims the judge improperly weighed the combined effect of the two measures and applied the wrong legal standard in striking down the surgical-center requirement.
The appeals court previously ruled that abortion restrictions are an unconstitutional burden only if they affect a "large fraction" of a state's abortion patients, Texas's lawyers said in court papers. The appellate judges set 150 miles as an acceptable distance for Texas women to travel to get the procedure.
1,100-Mile Trip
During a four-day non-jury trial in Austin, the clinics presented evidence that 930,000 Texas women of reproductive age would live more than 150 miles from an abortion clinic under the new rules. All licensed clinics west or south of San Antonio would be forced to close, leaving women in some of the poorest parts of Texas with round trips of 400 to 1,100 miles to reach the nearest clinic.
Texas countered with its own evidence that 83 percent of women would still live within the acceptable 150-mile range, so that "no more than 1 out of 10 abortion patients" might be unconstitutionally burdened by increased travel distances.
While the women's health advocates had only asked Yeakel to waive the admitting-privileges rule for two clinics in West Texas and the Rio Grande Valley, he blocked the state from enforcing the rule statewide.
The judge said the two measures acted together to "create an impermissible obstacle" for all Texas women seeking to end early pregnancies. The finding echoed his decision last year against the admitting-privileges rule, which was overturned in Texas's favor by a different three-judge panel in New Orleans.
The renewed statewide injunction barring enforcement of the admitting-privileges rule "openly flouts" the appeals court's earlier ruling and "provides relief that not even the plaintiffs thought could be requested," Texas said in court filings.
Statewide Demand
Texas also faulted Yeakel's determination that the handful of remaining clinics wouldn't be able to meet statewide abortion demand. As a group, the clinics provided about 14,000 of the 60,000 to 70,000 abortions performed each year in Texas, according to court records. Yeakel said the state's suggestion that the remaining clinics could fill the need "stretches credulity."
Texas complained that abortion advocates should have been required to prove the remaining clinics lacked capacity before Yeakel relied on that "conjecture" in his decision.
The case is Whole Woman's Health v. Lakey, 14-50928, U.S. Court of Appeals for the Fifth Circuit (New Orleans).
Before it's here, it's on the Bloomberg Terminal.
LEARN MORE