Shared Rides by Uber and Lyft Break California Law
By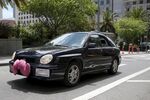 Smartphone car services Uber, Lyft, and Sidecar continue to have troubles with local governments at home and abroad. But things in California, at least, had seemed to be on pretty firm legal ground. Not any more. This week the California Public Utilities Commission sent letters to all three companies informing them that their shared-ride services violated state law.
The letters don't address all rides offered by the companies. Instead, the letters deal only with recently launched services that pair people with strangers going the same way, then charge each person a reduced fare. These are services that could have far-reaching consequences for the transportation industry. If shared-ride caught on, it could reduce the total amount of miles driven by taxis as much as 40 percent, according to a recent study by professors at MIT. The catch—in California, anyway—is that state law prohibits this sort of service.
According to the letters, the state of California considers it illegal to pick up more than more person, drive them around, and then charge each person an individual fare. The only exception is for school buses. A spokesperson for the CPUC couldn't immediately explain what the law is intended to protect against.
Uber and Lyft both said they hoped to work with the regulator to solve the issue. Neither company said it was planning to change its practices in the meantime, which is pretty consistent with their policies of moving forward in the face of legal opposition. After initially making a conciliatory-sounding statement, Uber issued another one later in the day with an added dose of hostility. "The only conclusion we can come to is that they PUC doesn't like technology, environmental progress, or anything that might make California a better place to live," it said.
When government officials confront ride-sharing companies the tone is often belligerent. But the letters the CPUC sent this week seem almost apologetic. The commission lacks the flexibility to allow a type of transportation service that is against state law, it writes, adding that the companies should petition lawmakers to modify the state code if they think it is outdated.
Until that change is made, the letter explains, "the commission must enforce state law."
Before it's here, it's on the Bloomberg Terminal.
LEARN MORE