Rousseff Ties Silva in Possible Brazil Runoff, Poll Shows
Anna Edgerton and Mario Sergio Lima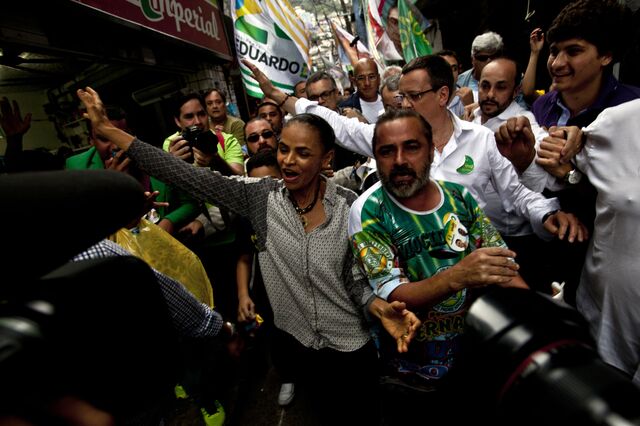 Brazil's President Dilma Rousseff gained support, tying with Marina Silva in a possible Oct. 26 election runoff, according to an Ibope poll published today. Stocks plunged.
Silva would have 43 percent support in a second-round vote, compared with 42 percent for Rousseff, a difference that falls within the margin of error of plus or minus two percentage points in the survey conducted Sept. 5-8. Silva's lead was seven percentage points in an Aug. 31-Sept. 2 poll.
Support for Silva in surveys conducted by different pollsters has been slipping since last week. Rousseff stepped up criticism of Silva's plan to slow inflation by granting the central bank's board full independence to set interest rates. The incumbent also says the former environment minister will abandon the exploration of pre-salt oil fields, in a move that would reduce state resources to fund education and health.
"This election is completely open," Renato da Fonseca, head of research for the National Industry Confederation, which commissioned today's poll, told reporters in Brasilia.
The Ibovespa led world losses after the survey showed Rousseff's re-election bid is gaining support. The Sao Paulo stock exchange gauge slumped 1.83 percent at 11 a.m. State-run oil producer Petroleo Brasileiro SA, known as Petrobras, plunged 2.03 percent.
'Political Use'
Silva, who became the candidate for the Brazilian Socialist Party on Aug. 20 after Campos's death in a plane crash, told reporters on Sept. 7 that Petrobras "has been destroyed by its political use, corruption and handing out favors."
Veja magazine reported this week that a group of politicians, including members and allies of Rousseff's Workers' Party, allegedly received bribes linked to Petrobras contracts. Rousseff said she asked Brazil's attorney general to investigate the information revealed by Paulo Roberto Costa, Petrobras's former head of refining, during testimony to the federal public prosecutor.
Silva says Rousseff has mismanaged the economy, fueling inflation and slowing growth. She vows to tighten the budget to help rein in consumer prices, grant the central bank board members fixed mandates by law and allow the exchange rate to float freely. Rousseff says her opponent's proposals would increase unemployment and reduce income.
Slower growth hasn't helped tame inflation, which accelerate to 6.51 percent in August, breeching the upper limit of the central bank's 2.5 percent to 6.5 percent target range.
In the Oct. 5 first round, Rousseff would garner 39 percent against 31 percent for Silva, according to today's Ibope poll. Brazilian Social Democracy Party candidate Aecio Neves would have 15 percent support. To avoid a runoff a candidate needs more votes than all other opponents combined.
Before it's here, it's on the Bloomberg Terminal.
LEARN MORE