Under New Federal Rules, Employers Will Have to Report All Amputations
By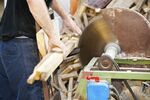 The Occupational Safety and Health Administration is moving ahead with a rule change that will require companies to notify the agency whenever an employee is hospitalized for an on-the-job injury or suffers an amputation or the loss of an eye at work. Right now, companies have to notify OSHA only when a work accident kills a worker or gets at least three employees hospitalized.
"The updated record-keeping and reporting requirements are not simply paperwork, but have an important—in fact lifesaving—purpose," Assistant Secretary of Labor for Occupational Safety and Health David Michaels told reporters during a conference call announcing the issuance of the final rule. "They will enable employers and workers to prevent future injuries by identifying and eliminating the most serious workplace hazards: ones that have already caused injuries to occur."
The new rules, a version of which was formally proposed three years ago, are scheduled to take effect on Jan. 1. They have drawn criticism from industry groups that contend they will burden businesses without doing anything to help workers. The new reporting requirements, says Marc Freedman, who directs labor law policy for the U.S. Chamber of Commerce, will "generate much traffic to OSHA that I don't think they're going to have any real use for."
The Labor Department disagrees. "It's hard to say that when someone is hospitalized, or someone loses a part of their body, it's not an important accident," says Michaels. "We don't see that as too much information." Such smaller accidents, he says, are warning signs that investigators now miss until too late. Michaels argues that the tens of thousands of new notifications provided to OSHA each year under the new rule will help the agency to identify and address safety hazards before they take lives and will spur communication between businesses and local OSHA offices that will help facilitate compliance. He also predicts that the desire by employers not to have to report amputations or hospitalizations to OSHA—and not to have that information made available to the public—will offer an additional behavioral "nudge" to make them shape up on safety.
"This is going to provide OSHA and the public much better information about the magnitude of those kind of injuries, what kind of industries they're occurring in, [and] who are the workers that are injured," says George Washington University environmental and occupational health lecturer Celeste Monforton, a former OSHA legislative analyst. "It's long overdue."
Before it's here, it's on the Bloomberg Terminal.
LEARN MORE