A Raid on the L.A. Fashion District Finds 'Narco-Dollar Laundering'
By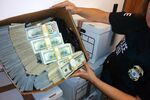 The Los Angeles fashion district used to be notorious for the sweatshop conditions that existed in some of its garment manufacturers. Now the fashion district has become an alleged epicenter for drug cartel money laundering.
Nearly 1,000 federal and local agents raided 75 locations on Wednesday and arrested nine people. At least $65 million was seized in the raid. Law enforcement even called Los Angeles the New Miami for money laundering.
"Los Angeles has become the epicenter of narco-dollar money laundering with couriers regularly bringing duffel bags and suitcases full of cash to many businesses," said Robert E. Dugdale, the assistant U.S. attorney in charge of federal criminal prosecutions in Los Angeles. Federal agents believe that drug cartels have used businesses throughout Los Angeles for money laundering. The problem is especially prevalent in the fashion district, though, because of the sheer volume of trade with Mexico.
The raids came after three separate federal indictments that include charges related to money laundering. In the grimmest case, the Sinaloa Cartel had $140,000 in ransom payments sent through businesses in the fashion district. The hostage, a drug distributor for the cartel, had been captured in 2012 after one of his cocaine shipments was seized by U.S. authorities. He was held at a ranch in Mexico where he was beaten and water-boarded, according to the indictment. The cartel told his family in California to pay the ransom to Q.T. Fashion, a company that imported goods from China to Mexico. The money eventually made its way to the cartel. The hostage was released. The owner and manager of Q.T. Fashion were among those arrested in the raids.
Kent Smith, executive director of the fashion district, wants to remind everyone that there are several thousand businesses generating several billions of dollars of real economic activity. He told the Los Angeles Times: "It's unfair to paint the rest of the legitimate businesses … with what a small number of businesses may be doing in terms of illegal activity."
Before it's here, it's on the Bloomberg Terminal.
LEARN MORE