Kroger's Organic Brand Is About to Hit $1 Billion in Sales
by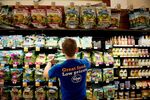 Organic foods have long carried a price premium along with a certain snob appeal or caricature, depending on your view: fancy eats for affluent folks, not the hungry and thrifty masses. So much for that stereotype. Organic products sold under Kroger's store brand are about to top $1 billion in annual sales.
The grocery giant expanded its Simple Truth natural and organic foods line nationwide two years ago and has seen consistent sales growth. The company touts the brand as being "Free From 101" artificial ingredients and preservatives. Kroger says it has more than 35,000 products that are organic or natural, with about one-sixth of those added in the past year. (Natural foods are prepared with minimal processing and are not considered organic.)
"This is one area where the customer has clearly said that we're interested in," Kroger President Michael Ellis said in an interview. "We're really just answering the customer's call for more and better." Kroger won't disclose the total sales for all organic products, but the overall category has already passed the billion-dollar mark for the company.
The steady flow of new organic products and companies has led to lower prices across a range of organic categories, such as cereals, breads, and dairy. Given the enormous expansion of chains such as Whole Foods Market, and consumers' interest in giving food labels much closer scrutiny than in years past, organics are no longer the domain of trendy, expensive specialty shops and farmers' markets. They're everywhere—what Kroger executives called a "blurring of groceries and natural foods"—and most shoppers tend to purchase both organic and non-organic foods.
Still, it's worth noting that $1 billion in annual sales is roughly 1 percent of annual revenue at Cincinnati-based Kroger, the nation's second-largest retailer with more than 2,600 supermarkets in 34 states.
Amid the organics boom, there's even some speculation that the traditional price premium those foods have enjoyed for years may ultimately disappear, at least for some products. "I tell you what, there's more margin pressure now on natural and organic than there's ever been," Kroger Chief Executive Rodney McMullen said Thursday on a conference call about the company's quarterly financial results. "It seems that it's becoming more and more of a competitive category, and so although margins tend to be better in natural and organic, I don't know if that's going to continue for the foreseeable future."
One of the newest organic products for the masses? Kroger is introducing an organic wine this fall. Said Ellis: "Who would have thought organic wine would become a viable item?"
Before it's here, it's on the Bloomberg Terminal.
LEARN MORE