pursuits
James Brown Saved CBS and Thursday Night Football
By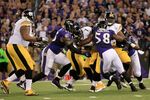 For CBS, the Ravens vs. Steelers football game on Thursday, Sept. 11, offered the ultimate $275 million challenge. How to capitalize on the network's major investment in NFL football while also adequately covering the high-stakes scandal currently engulfing the league and its stumbling commissioner?
In the end, CBS executives pulled it off. From the get-go, they wisely decided to scrap the panned pregame festivities, including a performance by Rihanna. Instead, they handed over a large chunk of valuable airtime to the news division. Scott Pelley, the anchor of CBS Evening News, provided an update on the latest in the Ray Rice scandal from the network's studios in New York. Norah O'Donnell revisited her recent interview with Roger Goodell, the league's embattled commissioner. And correspondent Judy Batista reported from outside NFL headquarters.
As kickoff approached, sportscaster James Brown delivered a carefully scripted monologue about the cultural epidemic of violence against women. "So this is yet another call to men to stand up and take responsibility for their thoughts, their words, their deeds and—as Deion says—to give help or to get help, because our silence is deafening and deadly," said Brown.
Afterwards, clips of Brown's commentary spread rapidly around the Internet, receiving plenty of praise along the way. For CBS, this was the best-case scenario: It addressed the situation head on, without saying anything even remotely controversial. The network escaped a hazardous situation without major injury, preserved its relationship with a very important business partner, and undoubtedly racked up huge ratings along the way.
Before it's here, it's on the Bloomberg Terminal.
LEARN MORE