business
The Big New iPhones Are Already Delayed
By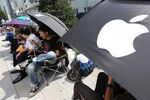 It took just hours after the next-generation iPhones became available for online pre-order on Friday morning for Apple fans to erase any doubt about whether they want phablets. Apple's website now warns of a three- to four-week delay for the 5.5-inch iPhone 6 Plus. The 4.7-inch phone, which is still bigger than any iPhone to date, remains available for pre-order for delivery on Sept. 19.
The delay for the iPhone 6 Plus comes even though Apple prepared to have more supply on hand than usual this year. Of course, shortages during iPhone launches are nothing new. The company didn't offer pre-orders of the iPhone 5S last fall, but the iPhone 5 exhausted its pre-order stock in about an hour in 2012.
While the flood of early orders reflects the insane demand for new iPhones, the company is also suffering from some technical glitches. Apple's website went down intermittently overnight on Friday, creating another awkward moment following the highly visible struggles with the live video stream of Tuesday's announcement.
The immediate popularity of the iPhone 6 Plus also shouldn't come as a surprise. Samsung's Galaxy Note 3, whose screen is even larger than the largest iPhone's, was a hit when it was released last fall, selling 5 million units in a month. Samsung unveiled new versions of the Note this month, but those won't be available until October.
Big-phone enthusiasts are a small minority of smartphone users, but they're growing in number. Six percent of mobile users were using phones with screens larger than 5 inches as of January, up from just 3 percent in February 2013, according to mobile analytics firm Flurry. On average, people with big phones are more enthusiastic app users than those with smaller phones. A recent study by Adobe also found that phablet owners browse the mobile Web more than their regular-size-smartphone counterparts.
Before it's here, it's on the Bloomberg Terminal.
LEARN MORE