pursuits
A Hedge Fund's 294-Page Recipe for Fixing Olive Garden
By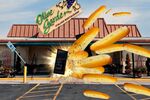 Olive Garden doesn't know how to cook pasta, soaks its salads in too much dressing, dumps sauce haphazardly atop its dishes, forgets to sell wine, and has strayed far from its Italian roots with dishes no one in Italy would touch. And that's how the slumping restaurant chain is seen by people who dearly want to see it flourish.
Starboard Value, one of Darden Restaurants' largest shareholders, believes Olive Garden and its parent company can still turn things around under all-new management—and with dozens of highly specific changes to almost every aspect of how it runs restaurants. The activist hedge fund released a soup-to-nuts 294-page revival plan late Thursday, ahead of Darden's latest earnings report. Total sales in the past quarter of $1.6 billion matched the company's guidance; Olive Garden, its largest chain, saw yet another drop in same-store sales.
The gang at Starboard clearly enjoyed writing their manifesto for fixing Olive Garden, even though the firm's stake in Darden has lost more than 12 percent of its value so far this year. The document addresses everything from use of corporate jets and limousine rides to the sizes of straws and chicken breasts. It also calls for the ouster of Darden's entire 12-person board. All told, Starboard claims its reform program could boost earnings by as much as $326 million. Here are the highlights:
Can I get a drink, please? Darden's alcohol sales severely lag its casual-dining competitors', making up only 8 percent of sales while its peers soak up an average of 16.5 percent. Back in the 1990s and 2000s, Starboard notes, Darden and Olive Garden did a better job moving wine and notched about 13 percent of sales this way. "Wine is an integral part of the authentic Italian family dining experience. It appears that management has not focused or executed on the obvious alcohol opportunity."
Enough with the breadsticks! Olive Garden uses as many as 700 million breadsticks across the chain, averaging three per diner. Since most diners do not eat all three, the rest go into the trash, incurring "massive, unnecessary waste." What's more, according to Starboard gastronomes, the current offering is a refined flour product "with more air and less flavor (similar to hot dog buns)." Better breadstick management could save as much as $5 million per year.
The pasta is overcooked—and needs salt. "If you Google 'how to cook pasta,' the first step of Pasta 101 is to salt the water." Here's the full rant on the topic:
Shockingly, Olive Garden no longer salts the water it uses to boil the pasta, merely to get a longer warranty on its pots. This appalling decision shows just how little regard management has for delivering a quality experience to guests. We believe this results in a mushy, unappealing product that is well below competitors' quality despite similar cost. How can management of the world's largest Italian restaurant chain think it is okay to serve poorly prepared pasta?"
Ouch.
The "Cadillac" of take-home containers. "Why do the to-go containers need to be dishwasher safe?" Starboard asks in a passage that compares Darden's to-go boxes to Cadillacs. Overengineered packaging drives up costs by about $22 million each year, according to Starboard.
Give it a rest with all the Olive Garden TV commercials. Darden advertises on national television 50 weeks per year, compared with only 39 weeks for its rivals, who tend to skip periods when potential customers aren't watching much TV. Starboard says the company has also been slow to embrace social media and digital tools—where's the Olive Garden app? "Rather than fixing its message and media mix, it appears that Darden has chosen the brute force method of throwing money at the problem using the blunt instrument of national TV ads." To be fair, Darden executives did cite social media on Friday's earnings call as an important tool to engage customers.
What's with the huge menus? Red Lobster, another restaurant in the Darden empire, has 138 menu items; at rival seafood chains such as Bonefish Grill and Joe's Crab Shack, the number is closer to 80. Darden's LongHorn Steakhouse chain likewise offers 98 dishes while rivals Texas Roadhouse and Outback Steakhouse have 70 or fewer. The flagship, Olive Garden, has 26 more items than competitor Romano's Macaroni Grill. This "menu complexity" increases the need for more employees, Starboard argues, and customers don't care about all the extra choices.
Why bother with that new Olive Garden logo? Changing all those signs will cost about $42 million, based on an estimate of $50,000 each to rebrand 837 restaurants. "Out of all the problems currently at Olive Garden, the last thing management should be focused on is Olive Garden's logo," Starboard says in a passage that dismisses the rebranding as a sign of "a loose spending policy." The signage is "irrelevant at this moment" and won't help the underlying business. (Not to mention design critics consider the new logo "inoffensive and charmless.")
Slow-motion turnover at the tables. Olive Garden takes as long as five minutes to clean and set a table for the next guest, compared with about one minute at what Starboard considers a successful casual-dining restaurant. The slower turns also lead to 60- to 90-minute waits for a table on Friday and Saturday nights. Starboard says a faster table turn could improve earnings by $6 million each year.
You people know nothing about wine. Olive Garden isn't pushing wine with its Italian-inspired entrees partially because the wait staff isn't trained to understand vintages, taste, color, preferences, and how to serve wine. "Or, at the very least, taking a drink order."
Darden executives who plow through the full, snark-filled prescription may also be ready for a drink.
Before it's here, it's on the Bloomberg Terminal.
LEARN MORE