ECB's Coene Welcomes Falling Euro in Stagnation Fight
Stefan Riecher and Ian Wishart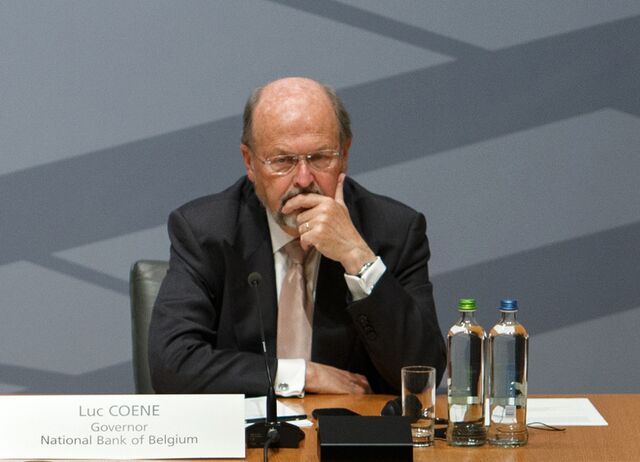 The European Central Bank welcomes the euro's decline as it helps spur inflation and boosts the economic recovery, Governing Council member Luc Coene said.
"The fact that the exchange rate is moving down is certainly not a source of concern for anybody," Coene said in an interview in Brussels yesterday. "On the contrary, under present circumstances it's rather helpful."
While the ECB doesn't have an exchange-rate target, officials have said a strong currency undermines efforts to boost inflation that is running at a fraction of their goal. Politicians from countries including France and Spain have called for a devaluation that would aid their economies by making exporters more competitive.
The euro slid below $1.30 last week for the first time in more than a year after ECB President Mario Draghi unexpectedly cut interest rates and announced an asset-buying program. The shared currency traded close to the lows of the day after the comments were published, and was at $1.2936 at 4 p.m. Frankfurt time. A weaker currency helps lift consumer prices by increasing the cost of imports.
"One of the major impacts we sought with our decisions was on the exchange rate and that has really helped a lot because it is one of the channels through which you can increase inflation," said Coene, 67, who also heads Belgium's central bank. "The exchange rate is the fastest instrument channel of transmission to inflation expectations. That's obvious because you see an immediate impact."
Negative Rates
The euro has weakened more than 7 percent since reaching $1.3993, an almost three-year high, on May 8, when Draghi said officials were "comfortable" with easing policy.
Since then, policy makers have cut interest rates twice, including implementing a negative deposit rate for the first time, announced a long-term funding plan for banks tied to their real-economy loans, and said they'll buy asset-backed securities and covered bonds.
The radical measures are a response to the threat of deflation in the 18-nation region. The economy stalled in the second quarter, a year after ending its longest-ever recession. Consumer prices rose 0.3 percent in August from a year earlier, the weakest pace since 2009.
Bond yields and market interest rates have dropped along with the euro. The overnight interbank borrowing rate, or Eonia, fell to a record minus 0.024 percent this week.
"We are pleased with the developments we observe on the money markets," Coene said. "We would expect Eonia to be slightly below zero for quite some time. This is fine."
Stalled Recovery
Draghi said in a speech in Milan yesterday that officials are ready to act again if needed to return inflation to their goal of just under 2 percent, while reiterating a call for governments to make structural reforms.
Coene started his career as a researcher at the Belgian central bank before working as economic adviser at the European Commission in Brussels and chief of staff to the Belgian prime minister. He returned to the central bank in 2003 as vice governor and was appointed governor in 2011.
His support of the newest stimulus puts him at odds with some members of the Governing Council. Jens Weidmann, the head of Germany's Bundesbank, objected to this month's rate cuts and the asset-purchase program. Executive Board member Sabine Lautenschlaeger said this week that "there was more than one ECB council member for doing less, and more than one ECB member for doing more."
Russia Risk
Coene signaled that the ECB may now wait for the latest measures to bite, saying "we now have a few months to look at the impact of what we have decided." Still, he backed Draghi by saying officials shouldn't hesitate to act again if price gains don't start to accelerate soon. One risk is the territorial dispute between Russia and Ukraine.
"If these tensions were to become more serious and materialize in a disruption of trade between Europe and Russia, it clearly would have a serious impact on the real economy, but also on inflation," he said.
The European Union and the U.S. decided yesterday to stiffen sanctions against Russia because of its support of separatists in Ukraine. Officials agreed to impose curbs on European assistance for oil exploration and production and on the financing of Russian defense and energy companies.
One option for more euro-area stimulus would be an expanded asset program, Coene said, without stipulating what the central bank would buy. ECB Vice President Vitor Constancio said yesterday that quantitative easing, or large-scale purchases of sovereign debt, was discussed at the last Governing Council meeting without being proposed.
"We haven't exhausted all our instruments," Coene said. "We have now started the packages with the targeted long-term loans, asset-backed securities and covered bonds. It's obvious that there's still some room to expand the composition of that package if the need materializes."
Before it's here, it's on the Bloomberg Terminal.
LEARN MORE