Draghi Says ABS Plan Will Proceed Without Government Guarantees
Alessandro Speciale and Jeff Black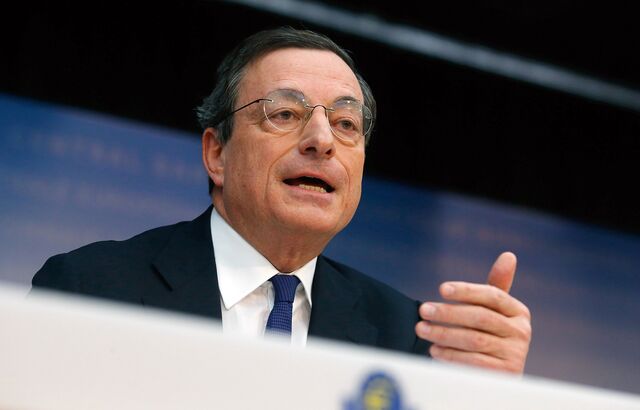 Mario Draghi said his plan to purchase higher quality asset-backed securities will proceed even if support from European Union leaders to extend it to riskier debt isn't forthcoming.
"The program is primarily oriented to the purchase of senior tranches; only if it's going to be extended to mezzanine tranches is there going to be a need for guarantees," he said at a press conference in Milan yesterday. "It's going to be much more effective at facilitating credit expansion with also the mezzanine component, and for that we'll need a guarantee."
To boost slowing euro-area inflation and spur credit, the Frankfurt-based ECB said this month it will buy ABS and covered bonds in the latest of a series of stimulus measures that included rate cuts and cheap loans to banks. Draghi pledged to buy senior tranches of "simple" and "transparent" ABS, adding that lower-ranking mezzanine tranches could also be part of the purchase plan provided public guarantees were in place.
Draghi has said details of the ABS plan will be announced after the next monetary policy meeting on Oct. 2. While euro-area governments have expressed support for reviving securitization in the region, they've stopped short of pledging new fiscal backing for the ECB's plan.
Bank Lending
"If I understand the program correctly, it's non-discriminatory, it's open to all countries and all financial institutions, so it could also open to Dutch banks," Dutch finance minister Jeroen Dijsselbloem said at the same press conference. "Do I support additional guarantees from the government on these products? The answer would be no."
The ECB wants to rekindle the market for securitized assets as a way to make it easier for banks to lend to companies and households that they might otherwise shy away from. Credit in the 18-nation euro area has contracted for more than two years.
France and Germany, the euro area's two largest economies, said they're not interested in providing guarantees for the asset-purchase program, according to a draft document obtained by Bloomberg News.
If the central bank were to buy mezzanine tranches, it could mean banks have to hold lower provisions against the asset, increasing the amount of cash at their disposal. European regulators have required banks to treat ABS as relatively high-risk since the asset class was blamed for helping fuel the financial crisis.
"In the meantime and independently, there will be some regulatory evolution in the way ABS are treated," Draghi said. "The ABS program will be launched regardless of whether there are guarantees or not."
Before it's here, it's on the Bloomberg Terminal.
LEARN MORE