Does Roger Goodell Truly Deserve $74 Million?
By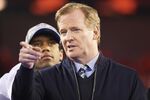 National Football League Commissioner Roger Goodell made $74 million over the past two years. How much he made in each year is up for argument and depends on how you gauge certain reports and how some income is classified. He either made $30 million in 2012 and $44 million in 2013—or he made $39 million in 2012 and then $35 million in 2014. In any case, the total is the same: He definitely made $74 million across a two-year period, for a nice average of $37 million per year.
If the NFL were a real public company—it is a nonprofit organization—the pay would be exorbitant. According to data firm Equilar, a $37 million annual salary would put him right on the edge of the top-10 highest paid chief executive officers in the U.S. It certainly puts him in an earnings league with the CEOs of major American media companies:
 


The only difference is that those companies make, by far, more money than the NFL. The league's revenue of $9.5 billion per year are puny in comparison:
 


 
We also know that CEO pay has no correlation to company performance. It's a fact that the NFL would still be making billions without Goodell at the helm—as it did before he took over as commissioner.
Before it's here, it's on the Bloomberg Terminal.
LEARN MORE