Consumer Sentiment in U.S. Rises to Highest in 14 Months
Victoria Stilwell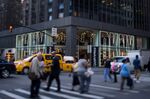 American consumer confidence rose to the highest level in more than a year in September, as households' views on the outlook for the economy brightened.
The Thomson Reuters/University of Michigan preliminary consumer sentiment index rose to 84.6, the highest reading since July 2013, from 82.5 the month before. The median estimate in a Bloomberg survey of 65 economists projected an increase to 83.3.
Continued progress in the labor market, gains in stock portfolios and a decline in gasoline prices have buoyed household confidence in recent months. Improving outlooks may mean Americans feel more comfortable about boosting their spending, which accounts for 70 percent of the economy.
"Consumer sentiment is beginning to increase, and that is a reflection of the improving employment situation, and lower gas prices are a plus as well," said Michelle Girard, chief U.S. economist at RBS Securities Inc. in Stamford, Connecticut. "We're more upbeat about the consumer than we have been because the pieces finally do seem to be falling together."
Another report today showed retail sales climbed in August at the fastest pace in four months and prior readings were revised up, boosting prospects for U.S. economic growth this quarter.
The 0.6 percent gain followed a 0.3 percent increase the prior month that was stronger than previously reported, Commerce Department figures showed today in Washington. Eleven of 13 major categories showed advances, led by auto dealers and building material stores.
Stocks Decline
Stocks fell as investors speculated the Federal Reserve may raise interest rates sooner than expected. The Standard & Poor's 500 Index declined 0.3 percent to 1,991.27 as of 10:31 a.m. in New York.
Forecasts for the Michigan index in the Bloomberg survey ranged from 81 to 89.5. The index averaged 89 in the five years before December 2007 and 64.2 in the 18-month recession that ensued.
The sentiment survey's current conditions index, which measures Americans' assessment of their personal finances, fell to 98.5 this month from 99.8. The measure of expectations six months from now climbed to 75.6 from 71.3 in August. The increase was the biggest since April.
Americans expected an inflation rate of 3.0 percent in the next year, down from 3.2 percent in August.
Sustained progress in the labor market may be underpinning some Americans' attitudes.
Firings have been hovering near pre-recession lows as companies retain workers amid improving demand. Applications for unemployment benefits climbed by 11,000 to 315,000 in the week ended Sept. 6, which included the Labor Day holiday that can make it difficult to adjust the data, a Labor Department report showed yesterday.
Payroll Growth
While payroll growth slowed in August, a six-month hiring spree this year has put more than 1.4 million Americans to work. Companies added 142,000 employees last month, the fewest since December, while the unemployment rate fell to 6.1 percent from 6.2 percent as Americans left the workforce.
Meanwhile wage growth has been hard to come by throughout the recovery, with average hourly earnings rising 0.2 percent in August from the prior month. They were up 2.1 percent over the past 12 months, in line with the average since the expansion began in June 2009.
Cheaper prices at the gas pump may provide some silver lining. The average price of a gallon of regular gasoline was $3.42 as of Sept. 10, the lowest level in more than six months, according to AAA, the nation's largest auto group.
Companies such as Mattress Firm Holding Co. are optimistic that continued growth will to lift sales. While the recession forced consumers to hold off on replacing mattresses, that may change now that the economy is improving, Chief Executive Officer Steve Stagner said in an interview.
Still, "traffic trends continue to remain choppy," he also said in a Sept. 4 conference call to discuss second-quarter earnings. "This was associated with a continuing overall soft consumer environment, however consumer confidence and other economic metrics are beginning to improve."
Before it's here, it's on the Bloomberg Terminal.
LEARN MORE