Wynn, Milken, Murdoch, Julian Robertson: Scene Last Night
Amanda Gordon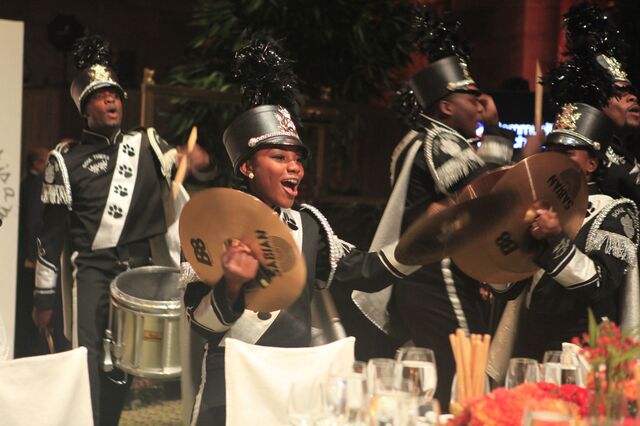 The question of what to give an honoree at a gala could always have a better answer. Do the plaques and crystal bowls demanding daily dusting really convey the appreciation with which they're presented?
The task becomes more perplexing when the honoree is Elaine P. Wynn, a director of Wynn Resorts. She owns a few beautiful things already, including a $142.4 million Francis Bacon triptych, as Bloomberg News reported in January.
"We'll just have to give her a painting for free," said art dealer William Acquavella, sitting at his table at Cipriani 42nd Street as waiters put down plates of sea bass.
"What do you think, another Bacon? Just kidding," quipped Louise Grunwald, a doyenne of the intellectual social scene, sitting next to Acquavella, who bought the Bacon at Christie's in November 2013 and has declined to comment on whose behalf. It remains the most expensive work of art ever sold at auction.
But enough about that. Of all the things Wynn herself might have wanted from the gala in her honor last night for Communities In Schools, an account of her material possessions likely isn't one of them.
Wynn said she had asked for two things when she agreed to be honored: not to have to sell tables, and not to have anything to do with the planning of the event. Though she did stipulate who should work on it: two longtime staffers of hers, Dawn Hume and Jackie DelRossi, as well as event designer Bronson van Wyck.
Marching Band
"She wasn't kidding when she said 'I don't want to know what's going on,'" said Hume, who found the surprise content had made Wynn "a mush" about half-way through the program.
"People talked about getting a headliner like a Lady Gaga; she's not someone who looks for something with marquee value," Hume said. "The reality is that this was not formulaic in any way. We thought, we're going to approach the whole night for her, and hopefully the other 350 guests in attendance will appreciate it."
And so: Bam, bam bam went the marching band, the Soul Tigers of East New York, Brooklyn, to lead guests into dinner.
Dancers of the Ailey School, wearing athletic socks and gym clothes, performed "4th Quarter OT," depicting some of the quick grabs for the ball that Wynn loves to watch as a basketball fan. (Pro basketball players also flew in for the event, including Chauncey Billups of the Denver Nuggets and Richard Jefferson of the Dallas Mavericks.)
Milken Toast
Guests included Rupert Murdoch, hedge-fund manager George Weiss and John Nixon, the head of ICAP's operations in the Americas.
Mike Milken, the former junk-bond financier, and hedge funder Julian Robertson led a toast and helped tell the story of Communities in Schools.
Robertson started "contributing my little nickels and dimes" to founder Bill Milliken in the 1960s, when Milliken was working with drop-outs in New York. Milliken said the founder of Tiger Management is the longest-running funder of Communities in Schools, which he started in 1977.
Milken said he would match donations of up to half a million dollars to bring in what CIS calls "site coordinators" to work full-time in schools, helping at-risk kids secure the social services they need to succeed, from food to eyeglasses to counseling.
Tributes to Mom
This is the core of the Communities in Schools model, which operates in 2,200 schools in 26 states through a network of affiliates. The benefit was thrown by the nonprofit's national office in Arlington, Virginia, which employs a full-time lobbyist.
Gillian and Kevyn Wynn gave affecting tributes to their mom. Gillian Wynn said she lives by yoga sutras, as well as "Mouchie Sutras," aphorisms she attributes to her mom, who was dubbed with the nickname Mouchie by one of her grandkids.
One Mouchie-ism is "lead by example," said Gillian, Elaine Wynn's youngest daughter with her ex-husband, casino boss Steve Wynn. "I've attempted to create a T-shirt for her that says, 'Just try to emulate me.'" Another: "If you want to be loved, you have to loveable."
The stars of the night were high school graduates helped by Communities in Schools. Ellie Densford, 25, is a senior at Texas State University in San Marcos majoring in fashion merchandising, and has a job at Target.
In-School Angels
"Mrs. Wynn, I promise to make you proud," Densford said on stage, after describing the honoree as her "role model: a successful businesswoman and yes, a fashion icon." For dinner, Densford sat with Liberty Nicholas, the CIS high-school coordinator she called her "angel on earth," as well as the organization's vice president of legislative relations, Dan Fuller.
Wynn said the idea to honor her came from the national board of CIS, which she chairs. The national office rarely runs its own galas.
"The national board said it was time to tell our story, and until we're in New York we really won't have street cred," Wynn said.
By the end of the night, she and the CIS team had most certainly earned it. Wynn herself made the most effective case for supporting CIS.
"It's involved with the wrap-around services that agencies and nonprofits are set up to deliver, but that don't always get to the proper place," Wynn told reporters during the cocktail hour. "By having a CIS person on site at schools, we coordinate the delivery of services in a much more efficient and targeted way. This person is more than a facilitator: they become the caring adult and the counselor in that child's life. They're there every day."
She said CIS's work is a part of education reform. "It's not charity," she said.
Before it's here, it's on the Bloomberg Terminal.
LEARN MORE