Europe's Big Airlines No Longer Want to Fly in Europe
By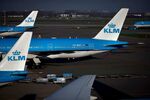 The biggest airlines across Europe are finding it tricky to make money in their own backyards. Air France-KLM said on Thursday it will transfer a major portion of its European flights to Transavia, a low-cost airline acquired by KLM 11 years ago, as part of a major restructuring aimed at reversing losses on short flights. The same strategy has been adopted in Germany with Lufthansa's steady shift since 2012 of its European flying from Frankfurt and Munich to its lower-cost Germanwings unit.
The shunning of European routes by the global flag carriers reflects the cutthroat nature of fare competition in the continent, where airlines such as EasyJet, Ryanair, and Wizz Air dominate the short-flight market. Those carriers' labor costs are substantially lower than at Lufthansa, Air France, and British Airways, which also have routes that don't touch their hubs.
Flying routes off their hubs offers very little revenue upside, says Seth Kaplan, managing partner of industry journal Airline Weekly, and this is one reason U.S. airlines have virtually eliminated flights that don't involve one of their hubs. "Non-hub, short-haul flying is all a cost game, and that's a game the true low-cost carriers like Ryanair and EasyJet will always win," Kaplan says.
As a result, all three European behemoths have been seeking new ways to fly in the continent without losing money. The low-cost segment of the European market has "too many players," Alexandre de Juniac, Air France-KLM's chairman and chief executive officer, said today in a presentation to investors. The airline is targeting a €2.5 billion profit ($3.2 billion) this year, up from €1.86 billion in 2013.
That's where Transavia comes in. Its parent company expects the Amsterdam-based airline will grow to 100 airplanes by 2017, from 41 now, and carry more than 20 million passengers per year while generating roughly €100 million in earnings. Three dozen Air France pilots have already transferred to Transavia, which Air France predicts will begin turning a profit in 2018.
By 2020, according to the strategic plan, the airline will have "a leading long-haul network at the heart of global alliances, with a portfolio of unique brands, restructured short- and medium-haul operations with a reinforced presence in the low-cost segment in Europe," de Juniac said in a statement. (As part of the restructuring, Air France is also slashing its cargo division from 14 airplanes to five by the end of 2016, and focusing on fresh food and animals—niche markets where it can fly profitably.)
British Airways' parent, International Airlines Group, has also been pinched by the economics of short flights despite owning a true budget airline, Barcelona-based Vueling, which flies to 131 cities across Europe. Additionally, IAG has been cutting jobs at its Iberia unit, including more than 1,400 announced in July, to improve financial returns.
These flight-shifting and cost-cutting tactics have infuriated airline employees in Europe, with three pilot strikes against Lufthansa in the past two weeks. Air France, meanwhile, is now bracing for a weeklong pilot strike tentatively set to start on Sept. 15; the airline has urged customers to reschedule their trips. Air France-KLM pilots contend that Transavia cockpit crews should be paid the same as their peers across the company.