Stewart Film 'Rosewater' Latest Defiance of Iran Torturer
Ari Altstedter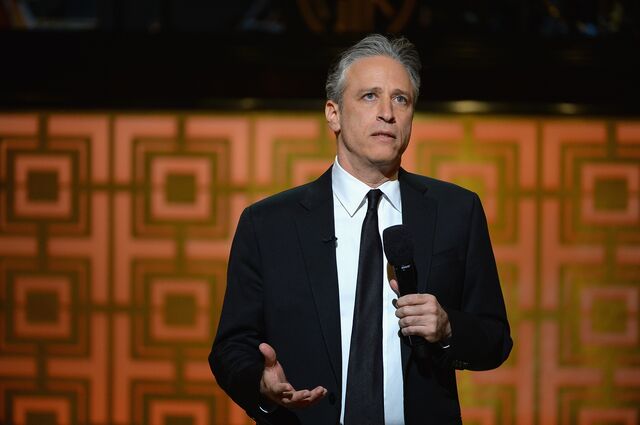 Over tea and cake in a Tehran cafe, Maziar Bahari's erstwhile jailers told him that if he spoke to anyone in the West about what had happened during his 118-day imprisonment in Iran, they'd bring him back in "a bag."
The warning didn't have its intended effect. "I'm going to tell everyone," Bahari recalled thinking the moment he landed safely in London.
In Jon Stewart, the American political satirist and host of "The Daily Show," he found an ally. The two took a major step in making good on Bahari's London vow with the public screenings this week of Stewart's directorial debut, "Rosewater," a movie that chronicles the Iranian-born journalist's experience in Tehran's Evin prison.
Amid turmoil from Syria to Libya, and only a week after extremists from Islamic State released a video showing the beheading of a second American reporter, the Toronto International Film Festival screening of "Rosewater" took on a special urgency, which Stewart hopes will carry into the film's wider release Nov. 7.
"Bloggers and activists and journalists around the world are facing censure and this type of oppression," Stewart told the audience at the Princess of Wales Theatre after the first Toronto screening.
Bahari, who reported for Newsweek magazine from Iran, was arrested and imprisoned in June 2009 after the presidential election that month. He was accused of sending false reports as part of a media conspiracy against the Islamic regime. Bahari left the country following his release in October that year, and has since been a vocal critic of Iran's press freedom record.
'Cannot Be Serious'
In Toronto, Stewart and Bahari described how, over a series of breakfasts together, the two discovered their approach to the disturbing material wasn't so different.
"You cannot be serious about authoritarian regimes," Bahari said in a public talk a day before the Toronto screening. "When I was in the interrogation room hearing all these outlandish charges and questions, I was laughing inside."
The finished product, featuring Mexican actor Gael Garcia Bernal as Bahari, reflects this sensibility.
Stewart won big laughs from the film festival audience -- famous for offering clues about how a film will fare in wider release -- by playing up the absurdity of the accusations leveled at Bahari, all while never losing the gravity of his predicament.
Dial 9
In the film, Bahari's interrogator, who he nicknamed "Rosewater" for his fragrance of choice, accused him of owning pornography, and as evidence held up a DVD copy of HBO's "The Sopranos." Another line of questioning revealed an inexplicable fascination with New Jersey.
Late in the film, the interrogator bursts into the cell, furiously demanding Bahari call his wife in London to stop her speaking out on his behalf, then abruptly quiets his rage as he reminds the prisoner to dial 9 for an outside line.
Released from jail a short time later, Bahari was summoned to tea with his former captors before he left the country. There, they delivered their final threat.
Despite his jailer's parting words, Bahari said he thinks a 10,000-word story he wrote for Newsweek about his ordeal, his 2011 memoir "Then They Came for Me: A Family's Story of Love, Captivity and Survival," and "Rosewater" have actually made his friends and family in Iran safer from retaliation. The people to worry about, he told the Toronto audience, are those who aren't known to international media.
'More Exposure'
Stewart said he came to that conclusion at the start of Bahari's real-life story.
In 2009, the Daily Show dispatched a correspondent to Iran to produce what was meant to be a satirical segment on the upcoming elections. One of the people interviewed was Bahari.
When the disputed election results sparked months of protests, word came back to New York that everyone interviewed in the Daily Show piece had been arrested.
When he heard the news, Stewart says he debated how to react. His first instinct was to say nothing on television, for fear of making the situation worse, until some advice from the family member of another prisoner changed his mind.
"The only way to deal with this," Stewart recalled on stage in Toronto before the film's screening, "is more exposure."
Before it's here, it's on the Bloomberg Terminal.
LEARN MORE