How Putin Lowered the Price of Europe's Apples
Russia's ban on EU fruit and vegetables has hit farmers and triggered fears of deflation
By and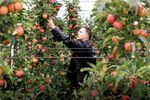 Dutch farmer Bas Feijtel has a bumper crop of pears this year, but he's going to harvest only about 75 percent of it. The rest he will let rot in the fields of his 60-acre orchard. Last year, Feijtel sold his higher-quality pears for about 50 euro cents (65¢) a kilogram, but this year he says he may get only about 15 euro cents for them, thanks to Russia's food import ban, which went into effect in August. About 20 percent of the Dutch pear harvest typically goes to Russia. Now it makes sense for Feijtel to harvest only his very best pears; paying workers to pick the lower-grade fruit would cost more than he could sell it for. "When the problems started from Russia, there was panic," he says. "It was a very bad moment for us, because it was one week before we started picking."
After issuing a few sanctions aimed at some of Russian President Vladimir Putin's inner circle this spring, on July 31 the European Union went after wider swaths of Russia's economy, banning commerce with the financial, energy, and defense industries, which are dominated by large state-owned enterprises. One week later, Putin hit back with a one-year embargo on imports of a host of agricultural products from any country or region that had adopted sanctions against Russia. That includes the EU, Norway, the U.S., Canada, and Australia. Not surprisingly, the effects of the Russian ban are being felt first in Europe, by far the biggest trade partner with Russia among those targeted. Exports of EU food products now banned by Russia were worth €5.1 billion ($6.5 billion) last year, or 4.2 percent of the bloc's agricultural shipments, according to the European Commission.
The resulting glut is making Europe's economic problems worse. Food prices had already been falling for three months before the ban took effect; they're likely to go lower as Europe struggles to either find new markets or consume more of its own food. Euro region inflation was about 0.3 percent in August, a fraction of the European Central Bank's 2 percent target. Falling food prices are "the biggest downward influence on euro area inflation," says James Nixon, chief European economist at Oxford Economics in London and a former ECB official. "The last thing Europe needs right now is any further downward pressure on prices."
On Sept. 4, ECB President Mario Draghi cut interest rates to a record low and announced the bank will start buying asset-backed securities to kick-start growth in the euro zone, where the economy is on the brink of recession. The U.S. Federal Reserve is winding down its monthly purchases of assets and considering how soon to raise its benchmark interest rate. The Bank of England is also weighing when to raise its key rate.

A few months ago, many economists thought the main blow to Europe's economy from the conflict in Ukraine would be higher natural gas prices; now the culprit is cheap, abundant food. The Russian ban has lowered prices for Finnish dairy products, Spanish peaches, Latvian cabbage, and other produce, according to Brussels-based Copa-Cogeca, one of Europe's largest farmers' unions. It's also hurt prices for beef, pork, and chicken, which are banned as well. Last year, Russia accounted for about a quarter of EU beef exports and almost a third of its fruit and vegetable exports. Produce is particularly vulnerable, because it's more perishable than cheese, which can be stored until prices rise. After the ban went into effect, prices for Dutch cucumbers and tomatoes dropped 80 percent, Copa-Cogeca says. Apple prices in the Czech Republic are down 70 percent from last year, while Spanish, Italian, and Greek farmers get 30 percent to 50 percent less for their peaches and nectarines.
The effects are likely to be felt even in countries that don't export a lot of produce to Russia. Germany's apple harvest is mostly consumed at home, but this year Poland, the world's largest apple exporter, has a record crop. In 2013 it sent more than half its apple exports to Russia; this year, more of those apples are expected to wind up in Germany, where they will drive prices of domestic fruit down. In a radio interview on Sept. 2, German Agriculture Minister Christian Schmidt urged Germans to eat fruit at least five times a day: "You should eat, I should eat, we should all eat." In Russia, meanwhile, prices are rising for meat, cheese, apples, and other foods.
For shoppers in Europe, the Russian ban is resulting in more affordable food. In Amsterdam, Lilian Polderman, a freelance journalist, says she recently picked up some bargain apples at her local Lidl discount market for 79 euro cents a kilo, less than half what they were selling for at Albert Heijn, the Dutch supermarket chain where she used to shop. In London, Katharine Pearson, a student, says she's noticed how cheap tomatoes are. "I ended up buying more tomatoes than usual," she says. "I actually thought, 'I'm going to make a tomato soup,' because they were a really good price."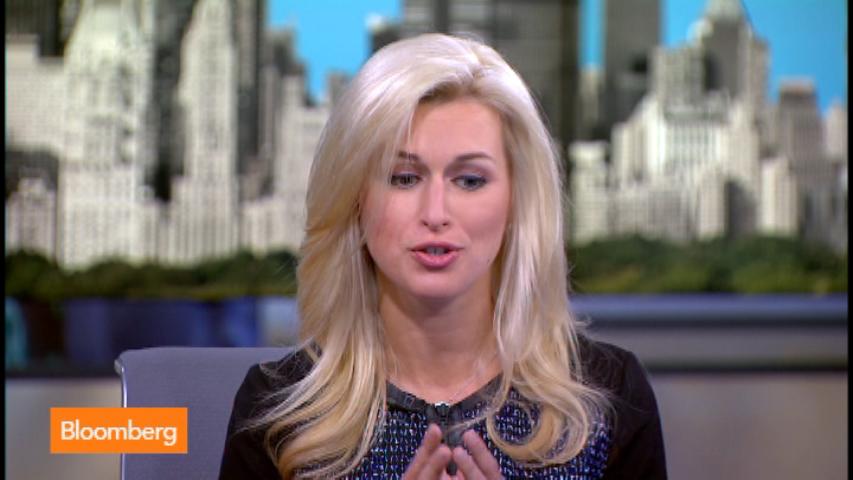 Even before the food ban, Europe's consumers were shifting toward discount retailers. That trend could accelerate. Discount chains such as German-owned Lidl and Aldi are better able to take advantage of the fall in prices, because they have fewer long-term contracts with suppliers than traditional big supermarkets. The discounters tend to renegotiate some produce prices every week and pass any savings along to customers. Discounters "are much more flexible and always have amazing deals for a very short time," says Bruno Monteyne, an analyst at Sanford C. Bernstein in London and a former executive at Tesco, Europe's largest supermarket chain. He predicts Aldi and Lidl will keep offering steep price cuts on produce, forcing supermarket competitors to drop prices and even sell some fruit and vegetables at a loss.
In the wake of the Russian ban, the EU on Aug. 18 announced support measures for fruit and vegetable producers worth €125 million, but then said on Sept. 10 it would suspend the program "due to a disproportionate surge in claims." The EU said it plans to announce a replacement support scheme in the next few days. Feijtel, the pear grower, isn't waiting around to find out what sort of assistance he'll get from the EU. He's focused on finding enough cold storage for the pears he won't be able to sell. "The first thing everybody does is put all the pears in the fridge and try to hire extra fridge space and extra boxes," he says. "Hopefully, we will get some normal prices. Maybe not now but in six months."
BOTTOM LINE -
The bottom line: Exports of food products from the EU to Russia were worth €5.1 billion before Moscow imposed sanctions.
Before it's here, it's on the Bloomberg Terminal.
LEARN MORE