Pimco's Gross Says Good Time to Lever Up on Credit Investments
Lisa Abramowicz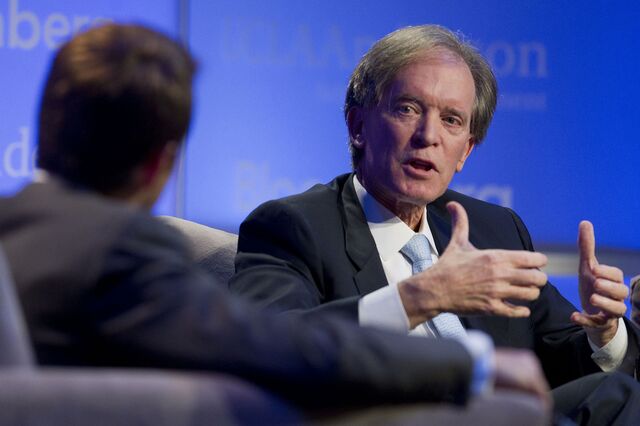 While the idea of using leverage may still invoke memories of the 2008 financial crisis, the billionaire manager of the world's biggest bond fund says it makes sense now to borrow money to magnify returns in the credit markets.
"It's probably a good time to lever in a mild sort of way," Bill Gross, who co-founded Pacific Investment Management Co., said in a television interview today. For the next three to five years, investors should expect "the ability to borrow short and to lend long, much like banks do."
His logic is that investors can count on earning more from longer-maturity bond yields than they have to pay to borrow for shorter periods as the Federal Reserve keeps interest rates low. While such activity may magnify losses in a selloff, it'll juice returns at a time when yields are hovering near record lows.
Citigroup Inc. analysts have examined the best way to use borrowed money for bigger returns while minimizing the potential downside. They concluded in a Sept. 8 report that leveraging up speculative-grade bonds was a better bet than U.S. Treasuries, stocks, emerging-market debt or investment-grade securities because investors don't need to borrow as much to achieve a 10 percent return goal.
Corporate-bond yields globally have fallen to 3.34 percent, below the decade-long average of 4.96 percent, according to Bank of America Merrill Lynch index data. Yields on 10-year Treasuries have dropped to 2.53 percent from 3 percent at the end of last year even though the Fed is winding down its monthly bond purchases.
Low Spreads
Gross, who oversees the Newport Beach, California-based firm's $221.6 billion Total Return Fund, said that relative yields on corporate debt may shrink further because investors are looking for ways to boost gains. The Total Return Fund has returned 3.5 percent this year, lagging behind 58 percent of its peers, according to data compiled by Bloomberg.
"We're comfortable with corporate spreads" at current levels, he said. "We're comfortable with interest rates at these levels because of this concept of the new neutral," or the firm's forecast that the Fed will keep interest rates below their historical averages for a prolonged period.
Relative yields on U.S. investment-grade bonds have shrunk to 1.13 percentage points over benchmark rates, less than their decade-long average of 1.86 percentage points, according to Bank of America Merrill Lynch index data.
Pimco, a unit of the Munich-based insurer Allianz SE, manages about $2 trillion in assets.
Before it's here, it's on the Bloomberg Terminal.
LEARN MORE