Obama Pledges 'Relentless' Campaign Against Islamic State
Mike Dorning and Angela Greiling Keane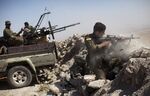 President Barack Obama pledged a "relentless" campaign to destroy Islamic State extremists in Iraq and Syria, with Middle Eastern allies such as Saudi Arabia and Jordan playing crucial supporting roles.
In an address to the nation tonight, Obama said the U.S. would lead a "broad coalition," using American air power in support of local forces on the ground. The president's strategy includes training and equipping vetted Syrian rebel groups in camps hosted by Saudi Arabia, whose Sunni leaders have grown increasingly alarmed by the threat posed by Islamic State, U.S. officials said.
"I have made it clear that we will hunt down terrorists who threaten our country, wherever they are," Obama said at the White House, one day before the 13th anniversary of the worst terrorist attacks on the U.S. "I will not hesitate to take action against ISIL in Syria as well as Iraq."
Obama began escalating the U.S. battle against the Sunni extremist group after it swept from Syria deep into Iraq in recent months with a campaign of terror that has included the beheading of two U.S. journalists. The group's victories over Iraqi forces galvanized public fears of a rising terrorist threat and stirred demands from lawmakers that Obama articulate a plan for dealing with it.
Unique Brutality
"In a region that has known so much bloodshed, these terrorists are unique in their brutality," Obama said. "If left unchecked, these terrorists could pose a growing threat beyond that region –- including to the United States."
The U.S. has conducted more than 150 airstrikes against Islamic State targets in Iraq, and Obama said he "will not hesitate" to take action against the group in Syria.
White House officials, who briefed reporters on condition of anonymity, said the administration was working on options for conducting air strikes in Syria. The U.S. already has been conducting surveillance flights that would be necessary to provide target information.
Even as he signaled more aggressive U.S. action, the president in his speech and his advisers in briefings with reporters took pains to separate the military action from the unpopular wars that he ended during his term.
"I want the American people to understand how this effort will be different from the wars in Iraq and Afghanistan," Obama said. "It will not involve American combat troops fighting on foreign soil."
U.S. Strategy
Obama said the offensive will be a long-term effort that fits within a strategy the U.S. has pursued against al-Qaeda affiliates in places such as Yemen and Somalia. In those countries, armed drones and other aircraft have been the main U.S. military tools, combined with aid for local government forces that carry out the ground fight.
In this current fight, the U.S. is increasing support for some of the moderate rebel groups that are rivals to Islamic State in the civil war to topple Syrian President Bashar al-Assad's regime.
The president is renewing a request he made in June for Congress to authorize a $500 million Defense Department program to train and equip vetted Syrian rebel groups.
Obama and Vice President Joe Biden made calls to members of Congress earlier today urging them to pass the authorization as part of a stopgap funding measure for the U.S. government. Republican House leaders delayed a vote on the funding package, originally scheduled for tomorrow, to consider Obama's request.
Saudi Aid
As a key part of the president's plan, Secretary of State John Kerry is seeking support from the Arab countries to help with expanding assistance to the Syrian rebels.
Kerry is flying to Saudi Arabia to press foreign ministers of Sunni Arab nations tomorrow for commitments to help in the fight. Obama talked with King Abdullah of Saudi Arabia by telephone today.
An Obama administration official said the U.S. has a commitment from the Saudis to host the training camp and help equip the Syrian rebel groups, meaning U.S. personnel won't be on the ground in Syria. Jordan also will play a role, the official said, without giving specifics.
Obama said he has the authority he needs for his strategy, including expanded air strikes against Islamic State.
"But I believe we are strongest as a nation when the President and Congress work together," he said "So I welcome congressional support for this effort in order to show the world that Americans are united in confronting this danger."
Lawmakers React
Congressional leaders from both parties indicated support for using the U.S. military to train and advise Iraqi security forces and vetted Syrian rebel groups, though House Speaker John Boehner tonight faulted Obama after the speech for failing to embrace the urgency of the threat.
While the president "has finally begun to make the case the nation has needed him to make," Boehner, an Ohio Republican, said in an e-mailed statement, he "appears to view the effort against ISIL as an isolated counterterrorism campaign, rather than as what it must be: an all-out effort to destroy an enemy that has declared a holy war against America."
Senate Intelligence committee Chairman Dianne Feinstein, a California Democrat, praised Obama in an e-mailed statement tonight for "recognizing the seriousness of the threat and for going on the offense."
Before it's here, it's on the Bloomberg Terminal.
LEARN MORE