Hertz and Carl Icahn Make Peace
by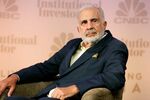 There won't be any nasty, protracted proxy battle between Hertz Global Holdings and activist investor Carl Icahn. The rental car chain agreed on Thursday to give Icahn—who has amassed an 8.5 percent stake in the company—three board seats and to let two of those new independent directors help select its new chief executive officer.
Hertz CEO Mark Frissora resigned on Sept. 8, citing personal reasons; Icahn and another large Hertz investor, Fir Tree Partners, had called for Hertz directors to replace its chief executive. Fir Tree, a New York hedge fund that owns about 3 percent of the company, had called for Frissora's ouster due to "serious missteps" during his eight years in charge. The company named Brian MacDonald, the head of its equipment rental business, to be interim CEO pending a search for Frissora's successor.
"This agreement eliminates distraction and ensures that we stay sharply focused on delivering the significant potential of the business," lead director Linda Fayne Levinson said in a statement. Levinson, a former partner at consulting firm McKinsey, was elected non-executive board chair this week as part of the Frissora transition. Hertz shares rose almost 5 percent in aftermarket trading on Thursday on news of the deal.
As part of its agreement with Icahn, Hertz will also change its shareholder-rights plan, so that the threshold for triggering the plan will be a 20 percent stake in the company, up from 10 percent. Three current directors will retire and be replaced by Vincent Intrieri, Samuel Merksamer, and Daniel Ninivaggi.
Hertz has not reported any financial results this year because of an accounting review that spans the past three years of results. Two weeks ago, the company said its 2014 income would be "well below" its past guidance. Hertz had planned to spin off the equipment business into a separate company early next year. The accounting turmoil is likely to delay the schedule for that separation.
Before it's here, it's on the Bloomberg Terminal.
LEARN MORE