Here Comes Apple's Watch. Should Watchmakers Be Worried?
High-end Swiss watchmakers have little to fear from Apple's 18-karat gold smartwatch
by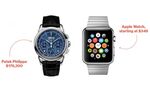 There's a kind of man who calls a watch a timepiece. He can tell an Audemars Piguet from a Vacheron Constantin at 50 paces. This is the kind of guy—and it usually is a guy—who doesn't worry about battery life or even accuracy, at least when it comes to the device strapped to his wrist. And he probably won't change his ways now that Apple Chief Executive Officer Tim Cook has finally shown the world what's up his sleeve.
On Sept. 9, Apple unveiled its long-awaited Apple Watch. Unlike Samsung, which has pitched its watch as "wearable technology," Apple is embracing watch-y-ness. There are 3 collections, 2 sizes, and 6 straps, for a total of 34 styles, unusual for a company not known for variety and choice. At the high end, the Apple Watch comes in a solid (yes, not plated) 18-karat yellow or rose gold case.
It's also undeniably a gadget, giving wearers access to iPhone apps and other features without forcing them to reach into a pocket or bag. When released next year, the watch will be able to count your steps, remind you where you've parked your BMW, and perhaps pay your tab at Le Bernardin. And, of course, Siri is at your service.
No doubt, the Apple Watch will keep really good time—the folks in Cupertino, Calif., boast that it's accurate to within 50 milliseconds. But that isn't likely to keep the makers of high-end timepieces in Switzerland up at night.

Time-telling smartphones are everywhere, yet since 2000, Swiss watchmakers have more than doubled exports, valued at more than 20 billion Swiss francs ($21.3 billion) in 2013. "When mobile phones and devices came on the market, we were asked about their impact on our industry," says Swatch Group CEO Nick Hayek. "Media were already anticipating the end of watches; however, it was just the contrary."
While Swatch Group owns the ultraluxury watchmaker Breguet—a Classique Tourbillon Extra Plat will set you back more than $150,000—some of its less prestigious brands could lose customers to Apple. Tissot and Rado emphasize new technologies such as solar charging and touch responsiveness; they also have prices that are likely to overlap with some of the Apple Watch models. Swatch is rumored to be developing its own smartwatch.

One reason the Swiss watchmakers aren't fretting is that mechanical watches—the kind you wind—are still very much in demand. Exports of electronic watches have little changed over the last decade in terms of volume and value; those of mechanical watches, which tend to be much more expensive than the battery-powered kind, have almost quadrupled in value and tripled in volume, according to the Federation of the Swiss Watch Industry. In 2000 mechanical watches accounted for 8 percent of the watches leaving Switzerland; in 2013 they represented 27 percent. Most of this growth is coming from watches priced at more than 3,000 Swiss francs. So while the lower end of the market is probably vulnerable to the Apple machine, high-end watchmakers likely have little to fear.
The Apple Watch will go on sale in 2015, and prices will start at $349. Cook & Co. didn't say how much Apple will charge for the 18-karat models. In July, Apple hired Patrick Pruniaux from Louis Vuitton Moët Hennessy, where he was responsible for TAG Heuer. Former Yves Saint Laurent CEO Paul Deneve and ex-Burberry CEO Angela Ahrendts both joined the company last year. Their arrivals strongly suggest Apple is interested in the luxury market and isn't just targeting the Fitbits and Jawbones of the world as competition.
Yet simply encasing an Apple Watch in gold won't be enough to lure Rolex lovers. Most Apple products have two- to five-year life spans and little resale value. High-end watches are supposed to last forever, and the secondary market is robust. This is a major selling point for the brands and gives customers a sense of security. "Smartwatches may be a useful tool to some, but really we find collectors coveting fine timepieces," says Reginald Brack, international head of retail for watches at Christie's in New York, though he adds that Apple's is a "pretty cool watch."
The Swiss watch industry has survived other disruptions, such as the "quartz crisis" of the 1980s, says Jean-Claude Biver, director of timepieces for LVMH: "It has gone through crises and restructures. It's an industry with a lot of cash, a lot of R&D development, a lot of marketing skills, and a very strong and structured distribution network."
That may be enough to keep Apple at bay for now. But collectibles go in and out of style. Last year at an auction in Cologne, Germany, an Apple 1 computer sold for $671,400. The 1970s model is equipped with a clock, but it has to be reset every time the machine is powered on, sort of like a windup watch.
Before it's here, it's on the Bloomberg Terminal.
LEARN MORE