Hospitals Have a Cure for Costs: Bigger Hospitals
Consolidation cuts hospitals' costs—and lets them charge more
By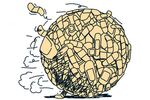 The U.S. spends more on health care than any other country. To cut costs, health-care providers are linking family practices and specialists with hospitals, rehabilitation centers, and outpatient clinics. The hope is that consolidating services will eliminate redundancies, reduce waste, and improve patient outcomes by making it easier for medical professionals to coordinate care—all objectives of the Affordable Care Act.
In recent years, President Obama has pointed to large integrated providers such as Pennsylvania's Geisinger Health System and Utah's Intermountain Healthcare as examples of companies that deliver superior care at lower cost. Another provider that's taken the message to heart is Boston-based Partners HealthCare, an eight-hospital system anchored by two Harvard-affiliated teaching hospitals, Massachusetts General and Brigham and Women's. Partners is already the state's largest health-care provider and wants to get even bigger by taking over three medical centers in greater Boston. The merger, Partners Chief Executive Officer Gary Gottlieb wrote in a May letter to employees, "allows us to carry out the mandate" of the Affordable Care Act. "There is this ability to manage costs and bring them down," says Partners' chief clinical officer, Gregg Meyer. "But you need to get to scale to do it."
Yet the desire to expand coordinated care is creating health systems so big they can dictate prices. That conflict is playing out in the Partners deal, which has run into opposition from state regulators and competitors who say the company's market power has warped medical charges in the state.
Partners collects 28¢ of every dollar spent on physician and hospital visits in Massachusetts. The company, a registered nonprofit, reported $10.3 billion in operating revenue in 2013, putting it ahead of S&P 500 companies such as Bed Bath & Beyond. With a workforce of 60,000, it's the largest private employer in the state. It's also the biggest lobbyist: According to CommonWealth magazine, Partners spent $683,520 to influence state policy in 2013. (The next highest spenders were trade groups for insurers and hospitals.)
Earlier this year, Massachusetts reached a tentative settlement with Partners after a five-year antitrust investigation into the prices the health system extracts from insurers. As first reported by the Boston Globe in 2008, those prices run as much as 60 percent higher than the prices rivals received for the same services. The company denied any wrongdoing but agreed to limit future price increases to the rate of inflation through 2020. The agreement also guarantees insurers the ability to negotiate separately with Partners' units. In a June statement announcing the settlement, Attorney General Martha Coakley said the deal would succeed in "reducing the negotiating power of Partners, limiting its ability to acquire physicians and controlling costs across its entire network." Partners' Meyer says, "This has incredible teeth to it. We are basically being held accountable for holding total medical expenses to a certain level over a period of time."
Critics say Coakley, who's running for governor, was too easy on Partners. Massachusetts' Health Policy Commission estimates that letting the company buy all three hospitals it wants could add $38.5 million to $49 million annually to the state's health-care bill. "There's no doubt Partners has driven prices higher in Massachusetts because of its monopolistic power," says David Spackman, who worked on the Partners investigation as an attorney in Coakley's office and is now general counsel for Lahey Clinic, a Partners competitor. "That has raised prices for everyone in Massachusetts."
Regulators are dealing with similar issues across the country. In Albany, Ga., the Federal Trade Commission challenged an acquisition by Phoebe Putney Health System. A settlement last year blocked Phoebe Putney from making any further acquisitions for 10 years without prior approval from the FTC. In Idaho, the FTC joined a lawsuit opposing the 2012 acquisition of the state's biggest physician group by its largest hospital group, St. Luke's Health System. A federal judge acknowledged the merger might improve care but ordered St. Luke's to unwind the deal in January because of concerns it would inflate prices. That case is being appealed.
A 2012 review of academic studies by the Robert Wood Johnson Foundation found "hospital consolidation generally results in higher prices." When hospitals buy doctors' practices, they typically look for "enhanced bargaining power" rather than opportunities to improve care. "Lots of mergers happen that don't lead to greater coordination, and there are ways to achieve coordination without mergers," says Paul Ginsburg, a professor at the University of Southern California's Schaeffer Center for Health Policy and Economics. "The higher prices for many mergers could be an order of magnitude greater than savings from coordination."
BOTTOM LINE -
The bottom line: Health-care providers say they need more market muscle to reduce costs, but their charges are rising.
Before it's here, it's on the Bloomberg Terminal.
LEARN MORE