Dacia Thrives as Europe's Cheapest Cars Revive Romania
Mathieu Rosemain and Andra Timu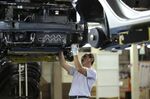 Viorel Oprea practically shudders as he recalls working at the Dacia auto factory in communist Romania. The plant in the town of Mioveni was a tumbledown collection of gray-concrete buildings surrounded by rusty barbed-wire fences. In the summer it was a sweatshop, and in the winter Oprea had to layer three coats to stay warm.
"It's like we've gone from hell to heaven," the 52-year-old maintenance operator said, gesturing back to the glistening white building behind him. The factory is bright and spotless, air-conditioned in the summer and warm enough in the winter that workers sport shirtsleeves on even the coldest days. "Back then we worked in cold, dirt, dust and mud," Oprea said as he left the plant after the morning shift. "Now it's like a pharmacy."
The new order has helped boost efficiency since Renault SA bought Dacia in 1999 and started producing Europe's cheapest cars. The plant runs at 95 percent of capacity, making 343,000 vehicles last year. Before 1989, the factory -- set beneath thickly wooded hills along the banks of the Argesel river 130 kilometers (80 miles) northwest of Bucharest -- employed twice as many workers to produce fewer than a third as many cars.
"Romanians used to have ambivalent feelings toward Dacia," said Bernard Jullien, an economist at French automotive think tank Gerpisa. "They were proud to have a national carmaker but ashamed that the cars were so bad. The pride is much stronger now."
Trabant, Skoda
Since communist regimes toppled across eastern Europe 25 years ago -- culminating in the execution of Romania's Nicolae Ceausescu on Christmas Day 1989 -- Eastern Europe has gone from a place with more than a half-dozen indigenous automakers to one where there are none. But the industry has never been stronger as the region's new consumers have snapped up inexpensive vehicles like those made in Mioveni.
While the Trabants, Wartburgs, and Polonez are all gone, the region produces more, higher-quality cars than ever. As part of Volkswagen AG, Czech manufacturer Skoda has prospered thanks to $3.8 billion in investment. Renault has plowed some 2.2 billion euros ($2.9 billion) into Dacia. OAO AvtoVAZ, the maker of Lada, Russia's largest auto producer, expects to return to a profit by next year under the stewardship of the French carmaker and its Japanese partner Nissan Motor Co.
And with Toyota Motor Corp., PSA Peugeot Citroen and Hyundai Motor Co. making cars under their own brands in the Czech Republic and Slovakia, both countries have pulled ahead of Italy in terms of auto production. The industry, which once struggled to meet even local demand, is the top exporter from central and eastern European countries, according to the McKinsey Global Institute.
Trophy Room
Dacia, though, faces an increasingly rough road with tensions growing across the border in Ukraine and the western European auto market only slowly recovering from a two-decade low. Furthermore, the cheap wages that underpin Dacia's revival have been rising fast, with union leaders likely to seek another big pay hike in negotiations next month, said Dacia Romania Chief Executive Officer Nicolas Maure.
"We need to think about long-term employment and not only about short-term pay increases," Maure said over coffee at Dacia headquarters, in a conference room filled with trophies and awards from the government and media celebrating company milestones. "Renault Dacia is a symbol for the country, the symbol of a successful privatization."
Though Dacia isn't the biggest of the region's automakers - - Skoda holds that title -- it's by far the fastest-growing major car manufacturer in Europe. Its first-half sales on the continent jumped 35 percent to 195,069 units, according to the European Automobile Manufacturers Association.
Mechanics Needed
Dacia was founded in 1966, a year after Ceausescu seized power, to offer affordable cars for the working man. Intended as a symbol of the country's rising industrial strength by Ceausescu's nationalist regime, it was named after the Dacians, early inhabitants of what is now Romania.
Its first model, the 1100, was a boxy four-door sedan based on the Renault 8. In 1969, Dacia released the 1300, a licensed version of Renault 12. Sleeker than its predecessor, the sedan was a staple of Romania's potholed roads for decades.
Though Dacia made some 2 million 1300s until the model was finally retired in 2004, getting one under communism required either connections or years on a waiting list. The cars were known to be so unreliable that people quipped that all Romanians are by necessity mechanics.
Full Trunk
"The trunk was filled with spare parts, and I soon discovered I needed every one of them," 61-year-old retiree Costica Neagu said of his first Dacia, which he got from his father-in-law in 1979. "You couldn't drive 50 kilometers without needing to change something or cooling off the engine."
Dacia's turnaround has been largely due to Renault's ultra-cheap car strategy. When the French automaker arrived, the Romanian company was struggling to stay afloat with outdated equipment and falling production. Chief Executive Officer Louis Schweitzer envisioned using the factory to produce a vehicle that he could sell for just 5,000 euros to meet surging demand in the newly capitalist countries of Eastern Europe.
Though Renault never met that goal -- the first of the low-cost Dacia models, the Logan, hit showrooms in 2004 with a starting price of 6,400 euros -- it was a runaway success. From September to December that year, Dacia sold 40,000 Logans. In 2005 it sold more than four times that many.
Renault noticed that many Logans were also showing up in western Europe, even though it didn't sell them there. So in 2005, the company introduced the brand across the continent, and sales have jumped by an average of more than 10 percent annually since then.
Moroccan Manufacturing
Today, the cheapest Logan starts at 7,700 euros, and the lineup has been extended to five main models, including a hatchback called the Sandero and the Duster, a small sport-utility vehicle. In 2012, Renault started manufacturing Dacias in Morocco.
In the first six months of 2014, the French company sold 571,846 cars in what it calls its entry-level, including Logans and sister models with the Renault brand. The company says the low-cost lineup is responsible for an outsize share of its profit, though it doesn't break out details.
"Without their entry-level program, they'd lose money," said Philippe Houchois, an auto analyst at UBS AG. Houchois estimates Renault's gross average operating margin for entry-level cars is about 8 percent, about double the level for its more-expensive vehicles.
Battery Leaks
To keep Logan prices low -- and those profits flowing -- Renault has worked hard to control costs. For the latest Logan, released at the end of 2012, the company knocked 15 percent off the price of seat frames by limiting the number of sub-components. A small tray that sits under the battery to collect leaks was redesigned to cut its cost by 30 percent, to less than 90 euro cents.
"Our main competitor is the second-hand market with two-to three-year-old vehicles," said Arnaud Deboeuf, head of Renault's entry-level program. "We're constantly looking for additional savings on parts, including the small one-euro components."
It's proven harder to keep a lid on wages. The average monthly salary at the Mioveni factory -- including extras such as shuttle buses, subsidized meals in the company cafeteria and bonuses -- is 4,228 Romanian leu ($1,240), or about 950 euros.
While that's about a third of what Renault pays factory hands in France, Dacia's 17,000 workers in Romania are among the country's best paid. The company says wages at Dacia are up 170 percent since 2008, while inflation in Romania has been about 30 percent over the same period.
Mom's Factory
"Everybody wants to work for Dacia," said Simona Toma, 45, who joined Dacia in 1987 and now oversees 28 people on the engine assembly line. She should know: Since she started, her husband and son have also joined Dacia.
"It's almost a pattern: if my mother works there, then I work there," Toma said in a small room beside the production line where teams get training on efficiency and assembly procedures.
Rising pay has sparked tensions between management and Sindicatul Autoturisme Dacia, the union that represents Dacia employees. In March 2008, Dacia workers demanding a 50 percent pay hike went on strike. Management called the SAD "unrealistic" and persuaded a judge to declare the strike illegal. After a 20-day walkout, the two sides agreed on 28 percent. With a new round of negotiations due in October, Dacia Romania CEO Maure cautions that the union needs to be "more reasonable" in its wage demands.
Contentious Relationship
"What we're trying to do is to maintain the competitiveness of Romania," Maure said. "Our relationship with the union remains very contentious."
Maure says Renault might implement greater automation -- which means fewer jobs -- or shift production to Morocco if he can't keep wages in check.
Moving production away from Mioveni "is a constant threat," said Ion Iordache, a union leader for SAD, who has worked for Dacia since 1975. "Management tends to bring up that issue during negotiations to put pressure on us."
Romania's government recognizes the contribution Dacia makes to the country. The company's 4.5 billion euros in revenue represented about 2.9 percent of Romania's gross domestic product last year, and when suppliers are included, the company is responsible for about 200,000 jobs, the Economy Ministry estimates.
Carpathian Highway
The country has offered Renault tax breaks and other incentives valued at some 200 million euros, and it has exempted Dacia and other big industrial producers from regulations requiring that they get part of their electricity from sustainable resources.
Now under consideration is a new 120 kilometer highway through the Carpathian mountains northwest of Mioveni, which Dacia has been lobbying for because it says it could help lop another 20-30 euros off the price of each of its cars.
Dacia "is a company that we have to help," Economy Minister Constantin Nita said in the massive gray ministry in central Bucharest, just down Victory Street from the building where Romania's auto industry was mapped out a half-century ago. "It's a big success that illustrates the transformation from an underperforming management style to a more efficient and capitalist one."
Before it's here, it's on the Bloomberg Terminal.
LEARN MORE