The Star Wars Juggernaut
A book about the franchise's never-ending gold mine and the crazy fans who support it
by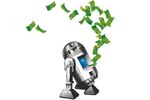 In 1999, Chris Giunta moved from Maryland to San Francisco to be among the first in line to see The Phantom Menace. He'd read that Star Wars creator George Lucas liked to screen his films at the Coronet Theatre, so he pitched a tent outside more than a month in advance. Busloads of Asian tourists took Giunta's picture. People in passing cars threw water balloons at him. On the night of the premiere, he donned Jedi robes and proposed to his girlfriend, Beth. (Shockingly, she said yes.)
Yet sadly, Giunta hated The Phantom Menace so much that he refuses to let his three children see it. "My son is seven," Giunta says in Chris Taylor's How Star Wars Conquered the Universe: The Past, Present, and Future of a Multibillion Dollar Franchise. "He says, 'Dad, there are other Star Wars movies!' I say, 'No, they're not real Star Wars movies.' "
Giunta is one of the many obsessive characters who appear in Taylor's book, a 450-page ode to the Star Wars industrial complex. The author is one such devotee and thus delves deep. He starts with H.G. Wells, one of Lucas's heroes, chronicles the director's life, and continues to the present day.
Unlike Giunta, Taylor can't quite bring himself to trash the prequels, tenuously defending the entire canon. "I've finally made peace with [the prequels]," he writes dramatically. Still, Taylor suggests that Lucas's inspiration was waning by the third movie, The Return of the Jedi. The director asked David Lynch to helm it, but Lynch passed up the chance to take on those furry, reviled Ewoks.
That was 1983, and by then Lucas could sell anything with a Star Wars logo. There were books, cartoons, video games, action figures, Lego sets, and much more. Taylor estimates that Star Wars has generated $40 billion since the first film came out in 1977. Merchandise sales account for $32 billion of the total, with Lucas pocketing a large percentage himself. He shrewdly waived his $500,000 director's fee for the first film in exchange for the rights to most merchandise and all the sequels, starting with the astonishingly good second film, The Empire Strikes Back.
Over the years, Lucas vowed repeatedly to abandon his creation. It wasn't so easy. He'd assembled a vast organization to make the movies, but after completing the second trilogy in 2005, justifying such a large payroll was difficult. "The Star Wars machine was winding down," Taylor writes. "Lucas would have to either set about making Episode VII or accept that layoffs were inevitable."
The wily Lucas found an escape hatch. He started work on another Star Wars film to make his company more attractive to a buyer, and then approached Disney Chief Executive Officer Robert Iger. In October 2012, Disney announced it would pay $4 billion for Lucasfilm. Many fans, including Taylor, were initially aghast, but Disney has quieted the ranks by recruiting J.J. Abrams, the geek idol who resurrected the Star Trek franchise, to direct the next film.
Taylor has a firm grasp of Star Wars history, but he's too much in the thrall of his subject matter. It's one thing for him to spin entertaining tales of Harrison Ford and Carrie Fisher smoking weed on the set of the first epochal movie. But he lost me during the many (many) pages dedicated to action figures, novels, cartoons, and other ephemera. The book is also hobbled by its lack of access to Lucas, who declined to participate. Instead, Taylor relies on heavily parsed secondary sources such as Skywalking, Dale Pollack's authorized 1984 biography.
Abrams's movie is likely to do well at the box office. All Star Wars movies do. Lucas won't suffer either; he took half of his payment from Disney in stock. Taylor writes that five months after the deal closed, the value of Lucas's shares had risen by $840 million. Taylor clearly hopes that some of this financial magic will rub off. If you learn one thing from his book, it's that you can sell just about anything if it has Star Wars in the title.
Before it's here, it's on the Bloomberg Terminal.
LEARN MORE