African Bank Set for JSE Comeback as Good Assets Rescued
Renee Bonorchis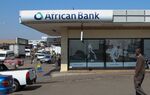 African Bank Investments Ltd.'s state-appointed administrator is readying the company for a return to Johannesburg's stock exchange next year, a month after the failed lender sold a book of bad assets to the central bank.
"We need to submit applications with the JSE by the end of October or early November," Tom Winterboer of PricewaterhouseCoopers LLP, curator for the bank known as Abil, said in an interview. An initial public offering is planned for the second half of February. There have been "one or two expressions of interest for Abil, but nothing firm, so we're going with the best route available for now," he said.
Abil, which was South Africa's largest provider of unsecured loans to low-income earners, collapsed after saying on Aug. 6 it needed to raise at least 8.5 billion rand ($776 million) to survive. That caused the stock to drop 95 percent in three days, while bond prices slumped by more than half. The central bank stepped in on Aug. 10 to split the lender into a "good bank" and a "bad book."
Abil's securities were suspended Aug. 11, with the central bank saying senior debtholders will take a 10 cent loss in every rand while subordinated debtholders, preference shareholders and ordinary shareholders may lose everything.
"That's still the way it's looking," Winterboer said in Johannesburg yesterday.
Name Change
Abil has continued lending and while there have been some resignations, there have been no staff cuts as the curator's team tries to recoup bad debts amounting to at least 17 billion rand. The central bank bought that book for 7 billion rand last month.
To set up the company that may be traded on the JSE, a new holding company and a new lender with a banking license are being established. The license should be granted in the "next few weeks" and there may be a name change, depending on the extent of damage to the African Bank brand, he said.
"People are still coming to Abil for loans, although there's a slight decline in applications," Winterboer said. "People are also paying back their loans, so collections are in line with the pre-curatorship period."
The collapse of Abil prompted Moody's Investors Service to downgrade South Africa's biggest banks, while money market funds recorded losses and moved to isolate Abil debt from the rest of their funds. Toyota South Africa (Pty) Ltd., the nation's largest automobile company by sales, was among companies that canceled bond sales as investors shunned corporate debt.
'Good Quality'
Six banks, including Standard Bank Group Ltd. and FirstRand Ltd., and government pension fund administrator the Public Investment Corp. will underwrite 10 billion rand of the proposed new shares, investing their own money if there aren't enough buyers for the stock.
"If there are good quality assets, then definitely we'd take a punt," Owen Nkomo, head of Inkunzi Investments, said by phone from Johannesburg yesterday. "We'd want to see loans that are active and being paid back nicely and consistently and hopefully the bank will transform itself into other lines of business, or who's to say it won't end up back in the same place."
In the past month, to make it easier for customers to repay loans, point-of-sale terminals have been placed in African Bank branches and retailers like Pick n Pay Stores Ltd. and Shoprite Ltd. have been enabled to collect money on Abil's behalf, the curator said. For the future bank, while offering mortgages isn't being considered, automobile financing, transactional banking and virtual banking are all under discussion, he said.
Consumers Struggling
The South African economy has slowed since 2012, when Abil was still profitable, affected by rising inflation and unemployment and protracted labor strikes that have crippled South Africa's platinum industry. Consumers, including miners, have struggled to pay debt and the country's economy will probably expand 1.8 percent this year, the slowest pace since a 2009 recession, according to Minister of Finance Nhlanhla Nene.
The bleak outlook means that Abil's biggest competitor, Capitec Bank Holdings Ltd., is more attractive, Simon Brown, chief executive officer of JustOneLap, an intestment and trading training website, said today in an e-mailed response to questions. "African Bank was only a micro lender, talk is they will be different come February, and that may be so, but Capitec has proved itself whereas Abil still has to."
Leon Kirkinis, who founded Abil in 1999 and resigned as CEO on Aug. 6, isn't involved in the rescue, according to Winterboer. While the central bank has, as is standard practice, appointed a commission to investigate the bank's collapse, Winterboer's team won't scrutinize Kirkinis's assets until the report covering the Abil probe is published in February or March, he said.
Reckless Lending
The curator's team, which consists of about 20 PwC employees who have set up a makeshift office in Abil's boardroom, has found three instances of reckless lending and has made the appropriate write offs, according to Winterboer. While "nothing specifically suspect" has been found by the PwC team, they are looking at Abil's credit models so that the lender can release a "proper" set of results for the fiscal full year through September, he said.
As Abil faltered, it also withdrew funding for its furniture retail unit Ellerine Holdings Ltd., which was then forced into bankruptcy by Aug. 8. Ellerine has 940 stores and 8,000 staff and administrators trying to save the operations have been approached by "several potential purchasers," the retailer said in an e-mailed response to questions today.
The yield on Abil's $350 million 2017 bond dropped 72 basis points yesterday to 26.4 percent, after reaching a high of 46.2 percent on Aug. 7.
A stock exchange statement to update the market is due on Sept. 16 at the earliest. Abil's full-year results will be released at the end of November, according to Winterboer.
Before it's here, it's on the Bloomberg Terminal.
LEARN MORE