A Harvard Professor Learns a Little Money Isn't Enough to Beat Big Money
Annie Linskey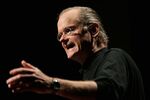 Harvard Law School professor Lawrence Lessig just learned a lesson: It takes more than some money to win an election. It takes a lot of money.
Earlier this year, Lessig announced the creation of MayDay, a super PAC that would take advantage of newly loosened campaign finance laws to spend lots of money supporting candidates who commit to tightening those same campaign finance laws. The big bet was New Hampshire, where MayDay spent $1.6 million supporting long-shot candidate Jim Rubens in the state's Republican Senate primary. That's nearly six times the $270,000 that Rubens's own campaign spent through Sept. 10 and more than any other outside group spent on the race, according to the Center for Responsive Politics. But it was far less than Scott Brown, a former U.S. senator, had at his disposal, and only a fraction of the total that a coalition of other outside groups poured into the race, including Americans for Prosperity, the conservative group backed by the billionaire Koch brothers, and the liberal Senate Majority PAC.
The result: Rubens was pummeled by his opponent Brown, losing by 27 percentage points. "We lost. Badly." Lessig wrote in an apologetic note on his Tumblr feed. "There's no spinning this."
Lessig launched MayDay with great fanfare using the heightened rhetoric of a crusader&mdsh;his group will "win our Democracy back" and give Americans "the power to fix our broken system." He likes to call it a "SuperPac to end SuperPacs." Rubens supported campaign finance reform and became Lessig's first candidate. MayDay aired 137 television commercials on networks in the race, according to Kantar Media's CMAG data. Some of the spots highlighted the role of special interests in Washington. Others attacked Brown as a carpetbagger—showing images of him leaving Massachusetts where he was a senator and driving to New Hampshire.
It didn't work. The problem, he conceded, wasn't just that other, better-funded super PACS drowned out his message. "We went big in New Hampshire," Lessig wrote in his mea culpa to donors. "Going big increased the salience of the issue among the citizens of New Hampshire. But among the 7 percent of New Hampshire who voted in the Republican Primary, another issue was even more salient: Who could beat the Democrat in November."
Before it's here, it's on the Bloomberg Terminal.
LEARN MORE