Would Napoleon's Sister Be Wearing an Apple Watch?: Opening Line
Laurence Arnold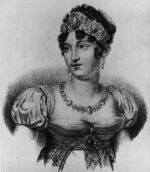 Maybe "iWatch" would have sounded too, you know, pervy.
So the promised next great tech gadget that filled our dreams last night is instead called the Apple Watch, a phrase that could have described what Sir Isaac Newton was doing when he figured out gravity. But that's probably not what Tim Cook had in mind.
Like everybody else who was nowhere close to the actual gadgets that Apple unveiled, we have no shortage of barely informed snap judgments:
It looks great. It's a pity you still have to carry an iPhone. The combination of touchscreen and multifaceted crown seems clever, though will we need our reading glasses?
Also, we can't wait to share our doodles, because really, when we're bored, we do great, elaborate doodles. We'd do better than Apple's Kevin Lynch, who, during the presentation, "sent a drawing of a fish to a friend to ask him if he wanted to get sushi for lunch," according to vox.com. We suspect the friend fetched his fly rod.
The naysayers still wonder if the entire premise of the Next Great Watch is flawed -- that the days have come and gone when wristwatches were a must-wear item.
"While MP3 players could be marketed as a replacement for CD players, and smartphones could be sold as better cell phones, smartwatches have nothing to displace," Vauhini Vara wrote on New Yorker magazine's website hours before the Apple event. "Companies have to persuade people to add a device to their lives."
Which makes us something like Napoleon's sister.
Caroline Bonaparte Murat, you see, is credited with wearing the first wristwatch, fashioned for her in 1810, when she was the queen of Naples. It was made by a Swiss-born, Paris-based horologist, Abraham-Louis Breguet. (We're looking forward to the day we can say to our watch, "Siri, what is a horologist?")
Tourneau, in a timeline on its website, says the wrist-worn watch became ''the preferable form of timekeeping'' around World War I. When did so many of us stop wearing them? Probably when we got so attached to our phones. You know what they say about payback, Apple.
For now we'll take the sanguine view. With the Apple Watch on our wrist, we'll be reminded to exercise more, we'll zip through supermarket checkouts, and someday we won't have to dig through our pockets to find our hotel-room key.
Oh, and one more thing:
Maybe once in a while, we'll be someplace on time.
***
Economic indicators include mortgage applications at 7 a.m. EDT and wholesale inventories at 10 a.m.
Earnings reports include Men's Wearhouse.
***
- President Barack Obama is ready to take the U.S. campaign against Islamic State inside the borders of Syria. - Goldman Sachs declared the ''end of the Iron Age" in a report on declining iron-ore prices. - Banco Santander Chairman Emilio Botin died last night of a heart attack. - Joan Rivers lost her breathing after a doctor performed an unplanned biopsy during the outpatient procedure on her vocal cords, the New York Daily News reported. - Netflix, Kickstarter and Etsy will show mock "loading" icons today to warn against Internet slowness if net neutrality isn't upheld. - Uber drivers snub guide dogs, the National Federation of the Blind of California alleges in a lawsuit. - Calpers will owe an extra $800 million in pension benefits over 20 years because local governments are "spiking" pay of soon-to-retire workers, an audit says. - Kansas's Democratic nominee for Senate asks court to remove his name from the Nov. 4 ballot. - Ray Rice could be allowed to play again someday, NFL Commissioner Roger Goodell said. - Microsoft is trying to buy Mojang AB, maker of the game Minecraft. - New York Senator Kirsten Gillibrand apologizes for calling Arlington, Virginia, a "soulless suburb." - Prince Charles is hoping for a granddaughter.
***
The Fed has talked itself into a bit of a corner.
Its oft-quoted pledge has been to keep interest rates low for a "considerable time" after it stops buying bonds to boost growth. As Jeff Kearns, Christopher Condon and Steve Matthews point out this morning, "With purchases set to end late this year and the Fed nearing its full-employment goal, that assurance will soon become obsolete."
So new language is needed, and the wording needs to be exactly right -- trust us, we know how hard that can be -- since markets are coiled and ready to jump at any policy tweak.
To be safe, we'd suggest sticking with exactly the same letters as "considerable time," just rearranged. Thanks to handy anagram generators on the Internet, we can suggest these variations:
"Inestimable credo."
"No mad celebrities."
"Idiot resemblance."
"Meat so incredible."
There's some guidance for you.
***
The world certainly feels like a dangerous place today. Islamist extremists compete with each other to reach more inhumanely levels of brutality, while at home we struggle to find the right balance between surveillance and freedom, pat-downs and privacy.
And yet -- through luck, pluck or some combination -- we approach another anniversary, the 13th, of the terror attack that changed all our lives, with nothing of its nightmare-inducing magnitude having happened since. That has to be something worth noting, even as we keep our guard up.
Of course, just as terrorism existed before 2001, it has continued since -- just not on the 9/11 scale inside the U.S. We had Fort Hood and the Boston Marathon bombings. There were the chilling attempts at mass killing by the underwear bomber, who in 2009 tried to blow up a passenger jet headed to Detroit, and by the Times Square bomber, whose 2010 attempt at bloodshed in New York failed because his explosives didn't detonate.
It would be nice to believe that our homeland security apparatus (a phrase that would have drawn puzzled looks 13 years ago today) does, for all its warts, successfully counter other would-be terrorists and their would-be terrorist acts.
Lower Manhattan, which after 9/11 seemed doomed to a lifeless future, certainly is a sign of triumph. "Office leasing is accelerating, while demand for apartments in the area is rising," David Levitt reports today. "With the 9/11 memorial and museum now fully open, and four other major components to be done by late next year, people are finally going to get to live and work in the vision of a new downtown forged more than a decade ago."
If you look around the world and think today feels peril-filled, just think how unsafe we felt 13 years ago tomorrow.
***
Hours ago, Wal-Mart released its 2014 "Chosen by Kids" list of top toys for the upcoming holiday season. (This one seems particularly timely.)
We see no option but to respond in kind, with our first "Chosen by Parents" list of the 10 presents we want. Don't forget the wrapping.
We'd like:
A yearlong retirement sendoff, when we're 40.
Some more sleep.
New underwear, to do our part for the economy.
Jeans. The ones Obama wears look comfy.
World Cup-caliber hair.
A no-show engineering degree.
Another month before we start shopping for toys.
***
For one day, we're putting aside the doom-and-gloom stories about golf being on the decline, with courses closing and stores cutting back on their inventory. Because golf has come a long way, and a lot of the credit goes to you.
We always delighted in your rushed, herky-jerky swing, the one that seems to knock you off balance a little, the one that's so different from the perfectly muscled arcs of today's star players. Your swing made us think that maybe we could be good golfers, too -- even if we could never, ever, hit a ball as far.
When Time magazine put a portrait of you on its cover in 1960, calling you "golf's new leader" and "the brightest star of a new generation of professionals," the sport itself also took a step into the spotlight.
You don't hold the record for major championships -- the Golden Bear owns that, with a Tiger still on his tail -- but your seven titles in seven years was a glorious reign.
Neither money nor fame erased the blue-collar ethic you absorbed while growing up around steel-mill families in Latrobe, Pennsylvania. You said you took delight in inspiring "tough guys" to try golf. "I'd like to think I brought people into the game that might not have been into the game because I made it attractive, made it interesting," you said in an interview for Golf Channel's "In Play With Jimmy Roberts."
You never took yourself too seriously. We loved your photo shoot with Kate Upton and your ESPN SportsCenter commercial. We still can't quite believe that during your visit to ESPN, you actually made this shot.
We know you had a pacemaker implanted last month, and we're glad you're feeling better.
So happy 85th birthday, Arnold Palmer. Arnie's Army would like to raise our glasses in a toast.
Make ours iced tea and lemonade, please.
(An earlier version of this story was corrected for a typographical error.)
Before it's here, it's on the Bloomberg Terminal.
LEARN MORE