Traders Brace for Sweden Election Deadlock as Race Tightens
Johan Carlstrom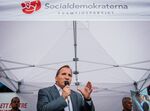 Traders and investors are bracing themselves for post-election turmoil in Sweden that could weaken the krona and push up bond yields as polls show neither of the two major blocs will win a majority.
Swedbank AB says foreign clients have approached the bank asking for assurances that their investments are safe. The bank has responded by outlining potential scenarios for the krona after the Sept. 14 vote.
"They had been very relaxed, hadn't cared too much until now," said Knut Hallberg, an analyst at the Stockholm-based bank. "But now, we can see that as things are moving closer and the whole thing looks very tight and complicated, they're starting to ask questions."
The development follows a shock poll out of Scotland this week signaling voters there may back independence from the U.K. as investors struggle to incorporate unforeseen outcomes into their strategies. In Sweden, months of polls indicating certain victory for Sweden's Social Democrat-led opposition shifted over the weekend to indicate Swedes are again warming to their four-party government.
Clear Risk
The shift increases the risk of a hung parliament as the Sweden Democrats -- a pariah in the legislature because of its plans to restrict immigration -- eats up more than 10 percent of the vote. Investors watching Sweden fear the development will lead to a weak minority-government, hamper budget talks and make Swedish debt and currency markets riskier.
The coalition has managed to function as a minority government "as it received support from the extreme right-wing party in some 80 percent of the votes. The left-wing could not hope for that," said Andreas Haakanson, an analyst at Exane BNP Paribas in a note. There's "a clear risk that the new government if it is at all able to create it, would fail relatively soon," he said.
Swedbank estimates just a 15 percent probability that the Social Democrats will win a majority with its allies the Green Party and the Left Party. It sees just a 13 percent chance that the government will continue to rule with passive support for most of its polices from the Sweden Democrats.
More Volatility
"In the short-term it could definitely increase volatility and we think that the biggest impact would be on the krona," Hallberg said. "The problem is that this could last for a number of weeks, even months and in a worst-case-scenario for four years."
Sweden's krona is the worst performing G-10 currency this year after the threat of deflation forced the central bank to lower rates 0.25 percent.
A weak minority-government will probably hurt the krona, said Jordan Rochester, a currency strategist at Nomura International Plc, in a Sept. 1 e-mail.
Prime Minister Fredrik Reinfeldt is gaining traction with voters after parties started unveiling their election manifestos last week. His administration has provided Swedes with successive rounds of income tax cuts since taking office in 2006. He also steered the largest Nordic economy through the global financial crisis without breaching the European Union's budget or debt rules.
The Social Democrats, led by Stefan Loefven, say they want to reverse almost one-third of Reinfeldt's roughly 130 billion kronor ($18.3 billion) in tax cuts. They plan to spend the extra money on education, more public sector jobs and more generous jobless and sick-leave benefits.
Haakansson at Exane said today that a win by the Social Democratic opposition and a "clear left turn" wouldn't be good for the country's banks.
Hung Parliament
The lead of the three-party opposition has narrowed to 4.2 percentage points from 9 points in a poll by Aftonbladet/United Minds published yesterday. A poll by TV4/Novus released yesterday showed the gap at 5 points versus almost 10 points last week. The Sweden Democrats were backed by 11.1 percent in the United Minds poll.
An Expressen/Demoskop poll published today showed the opposition's lead had narrowed to 6.3 points from 11.5 points last week.
"A situation with a hung parliament and Sweden Democrats holding the balance of power is looking increasingly likely," said Lauri Haelikkae, a strategist at SEB AB. "Creating a new stable government will be a very difficult task."
Budget Mess
The legislative process in Sweden's parliament also became more embittered last year, setting the stage for tougher negotiations this electoral term. Reinfeldt has said his coalition would consider blocking a Social Democrat government's budget proposals after the party broke with tradition and derailed his budget in 2013. The maneuver was the first time an opposition bloc has killed a single initiative in a broader budget bill. According to Swedish law, budgets only need a plurality of votes to pass.
The uncertainty may force longer interest rates higher as investors worry about the potential for worsening public finances, Hallberg said.
"It's not just about forming a government, but it's also about the budget," he said. "Will they be able to pass a budget in December?"
Before it's here, it's on the Bloomberg Terminal.
LEARN MORE