Scottish Rebel Advance Sets English Nerves Jangling
Robert Hutton and Thomas Penny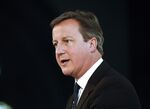 Not since Bonnie Prince Charlie marched his army south from Edinburgh in 1745 have so many people in London looked so nervously at Scotland.
Then, the English responded by recalling troops from Europe and popularizing the national anthem, "God Save the King," to rally support against the rebel pretender to the throne. This time, they've deployed politicians to assure the Scots that they're loved and businessmen to warn of the dangers of voting for independence in next week's referendum.
BP Plc and Royal Dutch Shell Plc both warned that Scotland's oil reserves are lower than nationalists estimate, Standard Life Plc said it's considering moving units to England, and the chief executive officer of Kingfisher Plc said a vote for independence would mean a freeze on investment. Meanwhile, Prime Minister David Cameron and opposition Labour Party leader Ed Miliband fanned out across Scotland to offer some warmth.
"You've heard a lot of what I call arguments of the head, but it's also important we make arguments of the heart," Cameron told workers at Lloyds Banking Group Plc's Scottish Widows unit in Edinburgh today. "I would be heartbroken if this family of nations was torn apart. Don't for one second think the rest of the U.K. is indifferent. These islands are our home. It's our country that we love. The rest of the U.K. is watching, listening, holding our breath."
Since a Sept. 7 poll by YouGov Plc put the nationalists just ahead, the world beyond Scotland has woken up to the possibility that the 307-year-old U.K. could break up. A second poll yesterday showed the two sides neck-and-neck. The pound has fallen, as have shares in businesses with large Scottish markets.
No Resignation
A Yes vote would be the biggest crisis of Cameron's premiership. He again brushed aside today the idea he'd have to resign in that event, saying that if the Scots opt to leave, he would work with them to break up the union.
While Deputy Prime Minister Nick Clegg visited the Scottish Borders, Miliband went to Cumbernauld, near Glasgow. In a speech to an invited audience of local Labour activists, he said he had "a simple message to the people of Scotland: Please stay with us. Stay with us because we are stronger together. Stay with us so we can change Britain together."
The YouGov poll showed 35 percent of Scottish Labour voters backed independence, up from 18 percent four weeks earlier. Labour backers, though, shouldn't think a Yes vote was the way to ensure they won't be governed by the Conservatives in future, Miliband argued.
"We're favorite to win the next election" across the U.K. in May, Miliband said. "The right way is to vote No in the referendum then vote for a Labour government."
'Team Westminster'
Nationalist leader Alex Salmond, the first minister in the semi-autonomous Scottish government, dismissed the coordinated visits by the three main U.K. party leaders.
"Today what we've got is an example of Team Scotland versus Team Westminster," he told reporters in Edinburgh. "What we're seeing is Team Westminster jetting up to Scotland for the day because they are panicking."
Cameron acknowledged his Conservative Party's unpopularity in Scotland, where it holds only one of the 59 House of Commons seats. He warned the people of Scotland not to vote Yes simply because they're "fed up with the 'effing Tories'" and want to "give them a kick."
He echoed the Standard Life warning, telling his audience of financial-services workers that their jobs would be threatened if Scotland breaks away from the U.K. and tries to continue using sterling.
'Someone Else's Currency'
"Be very clear: If you leave the U.K., you leave the currency union, you leave the pound," Cameron said. "The Yes campaign have said: 'Of course we could simply go on using the pound.' You don't have to think for too long about what using someone else's currency means for Scotland."
Financial institutions, Cameron said, "need access to the central bank that issues the currency. So they would move very rapidly to other parts of the U.K."
Actuary Peter Simpson, 28, who described his vote as "probably Yes," said he viewed Cameron's visit to Edinburgh as a sign of panic.
"I find it hard to believe he would be here today if there hadn't been that poll," he said. "It feels a bit needy to me."
Before it's here, it's on the Bloomberg Terminal.
LEARN MORE