Russian ADRs Gain as EU Ends Meeting Without Sanctions
Halia Pavliva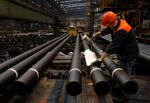 OAO TMK, a maker of pipes for oil and gas producers, led a gain in U.S.-traded Russian stocks as European Union ambassadors ended a meeting without a decision on new sanctions linked to the Ukraine war.
The company's American depositary receipts rose 2.6 percent to $9.86 in New York yesterday. It was the best performance on the Bloomberg Russia-US Equity Index, which increased 0.1 percent to 87.22 after reversing a loss of as much as 0.5 percent. Natural-gas producer OAO Gazprom added 1.3 percent to $7.55, ending a two-day drop. Futures on the dollar-denominated RTS index expiring this month gained 0.9 percent in U.S. hours.
Stocks rose as an EU official, speaking on condition of anonymity, said diplomats ended a meeting without deciding whether to impose new sanctions on Russia or when penalties would take effect. They're gathering amid an uneasy cease-fire between Kiev and rebels in the east. Ukrainian President Petro Poroshenko said that Russia, which denies involvement in the conflict, has withdrawn more than two-thirds of its troops.
"It showed that further sanctions weren't imminent," Walter "Bucky" Hellwig, senior vice president at BB&T Wealth Management in Birmingham, Alabama, which oversees $17 billion, said by phone yesterday. "It buys some time. The worst outcome was averted for now as Russia was pulling its troops back."
The U.S. and its allies have sought to hurt Russia's $2 trillion economy by imposing increasingly harsh sanctions that have targeted the energy, banking and defense industries with measures including financing restrictions and export bans. Bank of America Corp. on Sept. 9 cut its forecast for gross domestic product growth to 0.3 percent in 2014 and predicted no expansion next year.
Decision Delayed
EU ambassadors are resuming deliberations today on whether to trigger deeper sanctions or wait longer to see if the cease-fire agreed to on Sept. 5 holds and if Russia backs moves toward a longer-term accord. They have delayed the decision since agreeing to impose further penalties on Aug. 30 after Poroshenko said Russian tanks had entered Ukraine.
"Investors now hope there will be no new sanctions at all as Europe has failed to approve any new measures so far," Liza Ermolenko, a London-based emerging-market economist at Capital Economics Ltd., said by phone. "As Ukraine reports Russia is pulling troops back and Europe is indecisive on the new measures, cautious optimism is returning to the market."
Russia's benchmark Micex Index rose less than 0.1 percent to 1,468.55 in Moscow yesterday, trading at 5.2 times estimated earnings, the cheapest in emerging markets.
'Temporary Relief'
Future contracts on the Moscow-listed stock of OAO Rosneft, the state-run oil company targeted by sanctions, climbed 0.9 percent in U.S. hours. Contracts on Gazprom increased 1.2 percent. The Market Vectors Russia ETF, the biggest U.S. exchange-traded fund that tracks the nation's stocks, rose 1.3 percent to $25.07.
Stock investors have endured wide price swings this year amid the tension between Ukraine and Russia and the international response to the conflict. The Bloomberg index of the most-traded Russian shares in the U.S. has rebounded 13 percent from its March 13 low and is still down 15 percent this year. The gauge's 50-day historical volatility rose to 24 percent yesterday, the highest in three months.
While yesterday's developments were a positive sign, they were "just a temporary relief," BB&T Wealth Management's Hellwig said.
"No one seems to have any quick solution to the crisis," Hellwig said. "Things are so unpredictable that we have to watch the situation hour to hour."
Before it's here, it's on the Bloomberg Terminal.
LEARN MORE