Obama Vows 'Relentless' Campaign Against Islamic State
Mike Dorning and Angela Greiling Keane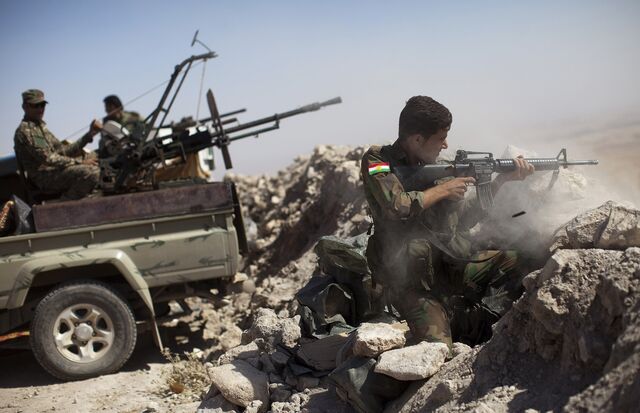 President Barack Obama will tell the public tonight that the U.S. will expand an offensive to destroy Islamic State in Iraq and Syria, using American air power to back local ground forces.
Obama will say the offensive fits within a strategy the U.S. has pursued in recent years in places such as Yemen and Somalia, where drones and other aircraft are the main U.S. military tools, combined with increased aid for government forces that carry out the ground fight.
"This counter-terrorism campaign will be waged through a steady, relentless effort to take out ISIL wherever they exist," Obama will say in his 9 p.m. address, according to excerpts released by the White House. It won't involve any U.S. combat forces on the ground, he will say.
Obama is delivering his address following the rapid advance of Islamic State fighters through Iraq after the group had captured territory in Syria. The growing threat to the government of Iraq and to U.S. interests in the country prompted Obama to authorize air strikes against Islamic State targets there in August, and he is now preparing to expand the offensive to the group's havens in Syria.
Broad Coalition
Obama will say the U.S. will lead a "broad coalition" against Islamic State.
"But I want the American people to understand how this effort will be different from the wars in Iraq and Afghanistan," Obama will say. "It will not involve American combat troops fighting on foreign soil."
Secretary of State John Kerry is flying to Saudi Arabia tomorrow to press foreign ministers of Sunni Arab nations for commitments to help in the fight against Islamic State. Obama talked with King Abdullah of Saudi Arabia by telephone today.
The nations include the Gulf States, Jordan and Turkey. Lebanon, with a multi-sectarian society, and Shiite-majority Iraq are also participating. Kerry met with Iraqi leaders today in Baghdad.
As part of the strategy, the president is renewing a request he made in June for Congress authorize a $500 million Defense Department program to train and equip vetted Syrian rebel groups who are rivals of Islamic State in the civil war to topple Bashar al-Assad's regime.
Lobbying Lawmakers
Obama and Vice President Joe Biden made calls to members of Congress today urging them to pass the authorization as part of a stopgap funding measure for the government. The funding legislation was scheduled for a vote tomorrow. Republican House leaders delayed the vote to consider Obama's request.
As a key part of the president's plan, Kerry is seeking support from the Arab countries to help with expanding assistance to the Syrian rebels.
The Sunni states have grown increasingly alarmed at the threat from Islamic State, according to a U.S. official who briefed reporters on condition of anonymity.
The Saudis recently announced they had rounded up dozens of alleged radicals sympathetic to Islamic State and al-Qaeda. The official said the Saudis know that about 1,000 Saudi nationals are fighting with Islamic State in Syria and Iraq -- men who could return to stage terror attacks in the kingdom.
While Obama has refrained from intervening in Syria, where Islamic State is one of several groups seeking to topple Assad, the chaos in the country has given Islamic State "a virtual safe haven," White House Press Secretary Josh Earnest said yesterday.
Aerial Surveillance
The U.S. already has stepped up aerial surveillance over Syria, which would be needed to provide the real-time intelligence necessary to conduct precise air attacks.
Obama told House and Senate leaders yesterday in a meeting at the White House that he has the authority he needs for his strategy, including air strikes against Islamic State. He has said he will consult with Congress as he acts, while stopping short of making his actions dependent on their support.
The Sunni extremist group's sweep across Syria and Iraq in recent months and a campaign of terror that has included the beheading of two U.S. journalists has galvanized public fears of a rising terrorist threat and stirred demands from lawmakers that Obama articulate a plan for dealing with Islamic State.
A U.S. public wary a year ago when Obama was preparing to seek congressional authorization for air strikes against Assad's Syrian regime for using chemical weapons has now shifted its mood. Sixty-five percent of Americans back bombing strikes against the Sunni extremists in Syria, more than double the level of support from a year ago, according to an ABC News/Washington Post poll released yesterday.
Before it's here, it's on the Bloomberg Terminal.
LEARN MORE