NFL Should Have Requested Rice Elevator Video, Fay Vincent Says
Scott Soshnick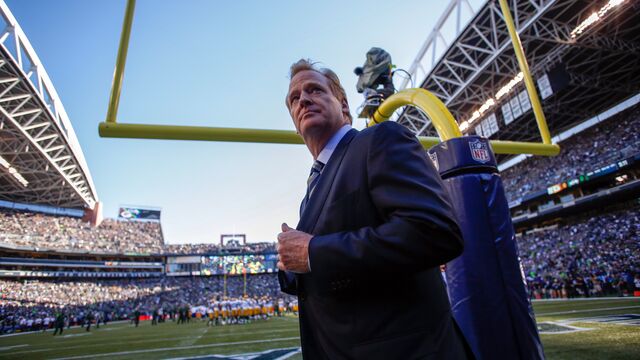 Former Major League Baseball Commissioner Fay Vincent said "it's clear" the National Football League should have requested elevator surveillance video from the casino where Ray Rice punched his fiancee.
"The request should have been made," said Vincent, deputy commissioner when Pete Rose was banished for betting on baseball after an investigation led by lawyer John. M. Dowd. "I'm surprised they didn't get a copy."
NFL spokesman Brian McCarthy has said the league didn't request the in-elevator video that showed the 5-foot-8, 206-pound running back knocking his fiancee unconscious with a single blow from the Revel Casino Hotel in Atlantic City, New Jersey, where the incident took place in February.
The NFL's request for the video from law enforcement was rebuffed, NFL Commissioner Roger Goodell told CBS News, adding that no one at the league office had seen it before he suspended Rice for two games in July.
The website TMZ two days ago posted the in-elevator video, prompting the Baltimore Ravens to cut Rice and Goodell to suspend him indefinitely.
Revel spokeswoman Lisa Johnson wouldn't say whether the casino would've acquiesced to a league request for the footage.
"In this age, where everybody is so concerned about privacy, I can imagine there for a day or two the question of we're not going to give it to you because we have to talk to lawyers," said Vincent, baseball's commissioner from 1989-92. "There's sort of a 72 hours delay mechanism because everybody is so lawyered up. Protecting privacy in a case where a guy pops his girlfriend in the mouth and knocks her out or whatever happened in the elevator, that's a pretty tough case."
Tougher Penalties
Goodell in the face of widespread criticism of the initial two-game suspension stiffened the league's penalty for domestic abuse. A first offense now carries a six-game ban and a repeat offender can be banished.
"There's a certain attraction to being able to deal with things very quickly," Vincent said. "On the other hand, you run the risk, as Goodell did here -- you get surprised by things happening you didn't foresee."
Goodell, who was paid $35 million in salary last season, said he wouldn't rule out a return to the NFL for Rice, Baltimore's leading rusher the past five seasons.
"But he would have to make sure that we are fully confident that he is addressing this issue," Goodell told CBS. "Clearly, he has paid a price for the actions that he's already taken."
Besides the NFL and team disciplines, Nike Inc. dropped Rice as an endorser, ending his seven-year relationship with the company.
Vincent, 76, said it isn't easy for a private organization, even the NFL, which generates almost $10 billion in annual revenue, to conduct an investigation.
"You don't have subpoena power," he said. "You have no power to compel anybody to talk to you."
Before it's here, it's on the Bloomberg Terminal.
LEARN MORE