Kingfisher Chief Hands Leadership to Castorama Boss
Paul Jarvis and Matthew Boyle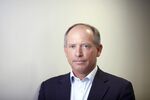 Kingfisher Plc, Europe's largest home-improvement retailer, said Ian Cheshire will step down as chief executive officer and hand leadership of the company to the head of the French Castorama unit, Veronique Laury.
The change will take place before Kingfisher's January year-end, the London-based owner of the B&Q chain said today in a statement. The decision "recognizes that the next phase of Kingfisher's evolution requires a significant leadership commitment and continuity," it said.
The timing of the succession reflects the start of a new five-year cycle for the retailer amid the recent acquisition of Mr Bricolage, France's third-largest home-improvement chain, Cheshire said. The 55-year-old executive has been in charge for seven years, doubling the company's profit and share price.
"You need to plan when the cycle shifts," Cheshire said on Bloomberg Television. "We've identified that probably the next five-year cycle is coming through. It's probably better to step down at this point. It's a very smooth handover and something that's been well organized."
Kingfisher rose as much as 4 percent in London trading and was up 2.7 percent at 315.4 pence as of 8:09 a.m.
Laury, 49, joined Kingfisher 11 years ago and has held roles including commercial director of Castorama France.
"If they were going to go internal, this is not a surprise choice," said Philip Gorham, an analyst at Morningstar. "She has been relatively successful at Castorama. Should they have gone internal? DIY is a specialist category, so their external options might have been quite limited."
CEO Candidates
Laury wasn't among the three potential CEO candidates that Cheshire named in an interview last year. The trio included Kevin O'Byrne, CEO of Britain's B&Q chain, and Finance Director Karen Witts. Gorham said finance chiefs often have difficulty moving to the CEO spot, while choosing O'Byrne "would have raised eyebrows" as B&Q has struggled recently.
Cheshire will step down from the board on Jan. 31, Kingfisher said. He became CEO in 2008 after spending a decade in executive roles including positions at B&Q and the retailer's international division.
Since 2012, he has spearheaded a strategic plan that includes lowering prices, educating shoppers on do-it-yourself projects, adding more own brands and opening stores in new and developing markets such as Russia and China.
Also today, Kingfisher reported unchanged first-half earnings as adverse foreign-exchange shifts wiped out growth. Adjusted pretax profit was 364 million pounds ($587 million), compared with the 362 million-pound median estimate of 13 analysts compiled by Bloomberg.
Before it's here, it's on the Bloomberg Terminal.
LEARN MORE