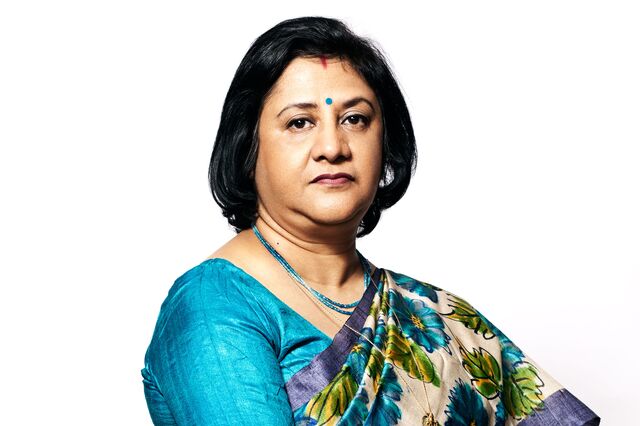 Lending in India can get political. Take the events of 2008, when Finance Minister Palaniappan Chidambaram instituted a program that ultimately forgave 710 billion rupees ($14.6 billion) in loans to more than 40 million farmers. The Congress Party politician said he was rescuing small farms that suffered from too much debt. Critics objected that the government was pandering to the rural poor ahead of national elections in 2009.
Indian policy makers have "waived off" -- the phrase they use to describe the practice -- agricultural loans multiple times since 1990. Arundhati Bhattacharya, chairman of the State Bank of India, the country's largest lender, wants it to stop, Bloomberg Markets magazine will report in its October special issue on the 50 Most Influential people in global finance.
Waiving debts corrupts the credit culture, Bhattacharya says. When borrowers anticipate that politicians might cancel their loans, they stop paying.
"There has to be discipline," Bhattacharya says in an interview from her corner office on the 18th floor of the bank's headquarters in Mumbai. "This debt waiver is something I feel very strongly about. I have conveyed my objections to the Reserve Bank of India and the government."
Although Bhattacharya has found support for this position in Reserve Bank Governor Raghuram Rajan, Prime Minister Narendra Modi, whose Bharatiya Janata Party in May won the biggest electoral victory in 30 years, has yet to take a stand. Several Modi allies in this year's election promised to waive as much as $5.8 billion in farm loans.
15,946 Branches
Bhattacharya, 58, one year into a three-year term running the bank, says she wants to help Modi fulfill his economic plans. "The bank can do a lot to support the revival in the economy," she says. The new prime minister has promised to boost growth by encouraging foreign investment and simplifying the tax regime. India's gross domestic product expanded at a 4.7 percent annual pace in the 12 months ended on March 31, near the slowest in more than a decade.
"Bhattacharya and her bank have a large role to play in the country's economy, which is struggling," says Vishal Narnolia, a banking analyst at SMC Global Securities Ltd. in Mumbai. "When you are heading a mammoth lender that accounts for a quarter of the country's banking system, the weight you have to pull is enormous."
State Bank of India, with 15,946 branches spread across the subcontinent, has the potential to reach people who have never before been served by the financial system -- which is one of Modi's goals. In his Independence Day speech on Aug. 15, the prime minister said he wanted bank accounts for a greater number of poor families, lamenting that more Indians have mobile phones than use banking services.
More Lending
Bhattacharya emphasizes the economic benefits that can come from expanding the reach of the banking system. More money in savings accounts means more funds to lend, she says. Already her bank has 23 percent of all loans in India. Bhattacharya also says the lender's $400 billion in assets, which is more than India's next four largest banks combined, can help fund infrastructure and other projects that create jobs.
Her most immediate task is to get a bank that is two centuries old and is now 59 percent owned by the Indian state fully up-to-date. She needs better customer service and improved technology to get SBI, as it's often known, on par with competitors such as ICICI Bank Ltd. and Citigroup Inc. And she says she needs to reduce the proportion of bad loans on the bank's books.
The top priority for her tenure, says Bhattacharya, who joined the company in 1977 as a management trainee, is "leaving SBI as a nimble and more efficient bank."
Air Conditioning
SBI is rarely described as nimble or efficient. Bhattacharya's predecessor Pratip Chaudhuri, seeking a simple way to improve customer service and productivity in an organization with 218,000 unionized employees, set a modest goal of making sure every branch had air conditioning. Even this was far from easy, given that some outlets are in remote areas where power supplies are unreliable, but the task was completed last year.
Bhattacharya is tackling bigger issues. When she was appointed chairman by the Finance Ministry in October 2013, the bank's nonperforming loans were rising. She has tightened requirements for corporate lending and pushed to increase loans to consumers for homes and autos, a business where defaults are lower. The effort appears to be working. Nonperforming assets fell to 4.9 percent of total assets in the quarter ended in June of this year, down from 5.73 percent at the end of 2013.
Shares Soar
Shares of State Bank of India have soared since Bhattacharya took over, returning 45 percent from October 2013 through yesterday, while the benchmark Sensex Index returned 32 percent. SBI's gains came even as the company sold more shares, raising $1.3 billion in January to bolster its capital.
"We have been impressed with what Bhattacharya has been trying to do so far," says Masha Gordon, who oversees more than $2.5 billion as the London-based head of emerging-markets equities at Pacific Investment Management Co., the biggest holder of SBI's bonds. The bank is writing more loans without adding personnel, Gordon says. "The company is focusing on profitable growth and achieving efficiencies," she says.
Bhattacharya has hired companies such as Oracle Corp. to develop software that will help the bank keep better tabs on credit quality across industries and geographies. Because SBI is so large, serving customers in India's big cities and small rural villages alike, it has a pressing need for better tools and technology to monitor lending risks, she says.
New Customers
The bank's vast scale is also an advantage, in Bhattacharya's view. Simply providing banking services to those who today have none should allow the bank to grow at a good pace, she says. SBI has, in the past two years, added 24 million new customers who had not previously used any bank's services.
The World Bank estimates that 65 percent of all adults in India don't have a bank account. That's some 530 million people. By contrast, just 36 percent of adults in China don't use banking services. Data from Credit Suisse Group AG show that Indians keep just 14 percent of total assets in financial savings, which is the lowest rate of any country the Swiss bank tracks. Some prefer to buy gold jewelry or other assets with their savings.
Bhattacharya, who has a degree in English literature from Kolkata's Jadavpur University, has a resume that spans all of India, several countries and most of SBI's businesses. In her first managerial job, she ran an eight-person branch in the small town of Nimpura, 100 kilometers (60 miles) west of Kolkata. Describing herself as a team player, she recalls that she always preferred to work alongside the tellers at the counter rather than in her office.
Very Competitive
She later spent four years in the bank's New York office. Having risen to be head of new business, she was part of a team that in 2008 established the Macquarie SBI Infrastructure Fund, a private-equity venture with Australia's biggest investment bank that manages about $900 million. "I got the postings that helped me round out my experience," she says. She has worked in human resources, and she was chief financial officer just before becoming chairman.
S.S. Mundra, the deputy governor at the Reserve Bank of India who is in charge of bank supervision, describes Bhattacharya as a "very competitive person." Her bank, with its reach throughout the country and across all types of services, will dominate India's banking sector for years to come, he says.
Loan Waivers
"She is trying to make this large bank a nimble and fast-footed player," says Saurabh Tripathi, head of the financial services group at Boston Consulting Group in Mumbai. "Bhattacharya has an inclusive leadership style that takes everyone along and yet forces decisions to be taken in the best interest of the bank."
Getting the Modi government to renounce loan waivers would be in the best interest of both the bank and the Indian economy, according to Bhattacharya. While the government indemnifies the banks when they're directed to forgive loans, state-owned and private institutions alike, even discussion of canceling loans boosts nonpayment rates. The issue is far from settled.
Chandrababu Naidu, elected in May as chief minister of Andhra Pradesh, a coastal state sometimes called India's rice bowl, was among the politicians who rode Modi's popularity to victory -- while also promising farmers that their debts would be waived off. As of mid-August, he had not yet been able to deliver on his pledge.
If key politicians were to go a few more months without further talk about loans being canceled, Bhattacharya expects loan repayment rates would improve. That's something that would benefit her bank, she says, and it's something the country needs as well.
Before it's here, it's on the Bloomberg Terminal.
LEARN MORE