Dollar General Will Make Hostile Family Dollar Bid, Reuters Says
Matt Townsend and Nick Turner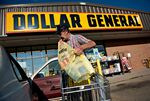 Dollar General Corp., spurned twice in its attempt to buy Family Dollar Stores Inc., will take its $9.1 billion offer directly to shareholders in a hostile bid, Reuters reported.
Dollar General could make a tender offer as soon as today, Reuters said, citing unidentified people familiar with the situation. The company's latest offer of $80 a share was rejected last week by Family Dollar's board, which cited antitrust hurdles. Family Dollar has accepted a lower bid from Dollar Tree Inc. instead, saying that deal will more easily gain regulatory clearance.
Dan MacDonald, a spokesman for Goodlettsville, Tennessee-based Dollar General, didn't immediately respond to requests from Bloomberg News for comment. Representatives for Matthews, North Carolina-based Family Dollar also didn't respond to a request for comment after normal business hours.
Dollar General has said it remains committed to acquiring Family Dollar and is working with financial adviser Goldman Sachs Group Inc. to consider its options. The company, which leads the dollar-store industry, said last week that it may take the bid directly to shareholders if it was rejected by Family Dollar.
The takeover fight for Family Dollar began in July, when the company agreed to be acquired by Dollar Tree for $8.5 billion, or $74.50 a share. That deal would merge the market's No. 2 and No. 3 companies, potentially creating a new leader. Dollar General then stepped in with an unsolicited bid of $78.50 in August, aiming to maintain its perch atop the industry.
Selling Stores
After that offer was rejected because of antitrust concerns, Dollar General increased its price to $80 a share in cash. Along with the sweetened bid, it pledged to divest as many as 1,500 locations to placate regulators, up from 700 in its earlier offer. It also said it would pay Family Dollar $500 million if the deal failed to garner approval.
In snubbing Dollar General's bid, Family Dollar said its experience with Federal Trade Commission regulators reviewing the Dollar Tree deal led it to believe a Dollar General merger would have a harder time getting clearance. A combination with Dollar General would have almost 20,000 locations, making it the largest retail chain in the country by that measure.
Family Dollar and Dollar General also have a similar business model, with the chains selling products at multiple prices and mostly catering to low-income shoppers. Dollar Tree, in contrast, attracts more middle-class consumers and sells most of its items at $1. The Chesapeake, Virginia-based company has said it's ready to close as many stores as necessary to complete a merger with Family Dollar.
Before it's here, it's on the Bloomberg Terminal.
LEARN MORE