U.K. Bookies Are Betting Against Scottish Independence
By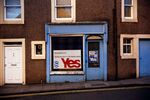 Polls suggest that Scotland's independence movement could win a Sept. 18 referendum. British bookies aren't buying it.
The country's two biggest bookmakers, Ladbrokes and William Hill, are laying 7-to-4 odds against a "yes" vote—even as Britain's political elite is in a panic over polls showing the race is neck-and-neck. A poll released Sept. 9 by survey group TNS Scotland, showed pro-independence forces with 38 percent support, just one point behind the opposition, while a YouGov survey over the weekend showed the "yes" campaign with a narrow lead.
If those findings are right, you'd expect odds close to 50-50. Yet most of the British bookmakers surveyed here are offering roughly 7-4 odds against independence, meaning that someone who bet 4 pounds on a "yes" vote would win 7 pounds plus the return of her stake if the "yes" campaign won. The payoff for a "no" bet would be much smaller, only 2 pounds on a bet of 5 pounds.
Do the bookmakers know something that pollsters don't? The Guardiannewspaper interviewed several bookmakers who offered some possible explanations:
• Even if the "yes" side has picked up momentum, "a lot of people think 15 percent of 'no' voters haven't just disappeared overnight," Graham Sharpe of William Hill told the newspaper.
• "Most observers (including us) believe that undecided voters will lean toward the status quo when it gets to polling day. There is some good evidence for this from previous referenda around the world, notably the [failed] 1995 Quebec independence referendum," said Matthew Shaddick of Ladbrokes.
• Mike Smithson, who runs the Political Betting website, said there might be "a 'shy no' syndrome at work in Scotland," similar to what's known as the "shy Tory syndrome," in which British voters don't tell pollsters that they plan to vote for Conservative candidates.
The bookmakers have guessed right on some earlier elections, including the victory of the U.K. Independence Party in the European parliamentary vote last May. In that election they laid 2-5 odds for UKIP—identical to what they're now offering for bets on a "no" vote for Scottish independence.
Before it's here, it's on the Bloomberg Terminal.
LEARN MORE