Widodo Risks Misfiring With New Government Streamlining
Novrida Manurung and Neil Chatterjee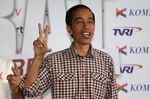 Indonesian President-elect Joko Widodo plans to merge some government ministries and spur faster decision making as he seeks a fresh approach. Doing too much, too soon risks distracting from his economic priorities.
Widodo, known as Jokowi, plans to combine trade and agriculture into a new ministry focused on food sovereignty, and merge fisheries and transport into maritime affairs, according to his team. Options under discussion include keeping the number of ministries at the current 34, or paring them down to as few as 20 while keeping the same number of civil servants.
The team is making a "transition from campaign into administration," Anies Baswedan, a deputy head of Jokowi's transition team, said in an interview with Bloomberg Television with David Ingles today. "This is a completely new experience" for the country in receiving a new leader who wasn't part of the previous government, he said.
The incoming leader, known for his efforts to fix Jakarta's infrastructure and cut bureaucracy as the city's governor, has pledged to reduce red tape, build toll roads off Java's coast and make the country more self-sufficient. Yet a bureaucratic upheaval could increase budget costs and undercut Jokowi's ability to spur an economy growing at its slowest pace since 2009, curb fuel subsidies and narrow a current-account deficit that's weighing on the currency.
Budget Cost
"People have big expectations for Jokowi, so that in the short term Jokowi's focus shouldn't be on bureaucratic reform but on implementing a program that can boost confidence in the new government," said Lana Soelistianingsih, chief economist at Samuel Asset Management in Jakarta. "Cutting ministries will mean taking risks on the budget and human resources."
Consolidating departments will add to budget outlays in the first year and start producing savings in 2017, Andi Widjajanto, a member of the planning team for Jokowi, said earlier this month. Indonesia had almost 4.5 million civil servants in 2012, according to its statistics office. Jokowi, 53, will outline his plans on Sept. 15.
"Of course, in the first one to two years it will be costly," Widjajanto said today. "If we want to implement lean business processes, we need only 20 ministries, even though we realize there will be problems to restructure the ministries."
It would be better to wait until the country's financial situation improves so the government can pay to retire some of the civil servants early, said Fauzi Ichsan, an economist at Standard Chartered Plc in Jakarta.
Investor Optimism
"Reshaping ministries in theory is a fine thing to do -- the shape of the cabinet has been virtually static for a quarter century," Kevin O'Rourke, a political analyst, said in an e-mail. "Unfortunately, the cabinet changes that Widodo is reportedly considering don't seem too promising."
The effort seems geared toward economically costly goals of protectionism, rather than bringing about effective governance through institutional reforms, said O'Rourke, who wrote the book "Reformasi: The Struggle for Power in Post-Soeharto Indonesia."
The rupiah has risen 3.1 percent this year and the Jakarta Composite Index has gained 20 percent, as fund investors bet on Jokowi's ability to get things done in Southeast Asia's largest economy. As Jakarta governor, Jokowi made unscheduled visits to government offices to check that processes and bureaucrats were working, and replaced underperforming department heads.
"When he was governor, he spent more time inspecting, implementing his policy rather than being in the office," Baswedan said. "It changes the mindset of the entire bureaucracy in the process and it has transmitted to other regions."
Bureaucratic Layers
Jokowi, to be inaugurated Oct. 20, has promised to pick a cabinet of professionals, rather than political appointees as done by outgoing President Susilo Bambang Yudhoyono. The current government uses a system of coordinating ministries that oversee several ministries led by party politicians, backed up by deputy ministers who are experts in their field.
It makes sense to cut the deputy minister positions, removing a layer of bureaucracy created by Yudhoyono's need to accommodate political interests, Soelistianingsih said. Yet merging key ministries such as trade and industry will make it difficult to deal with challenges such as food inflation and a Southeast Asian economic zone planned from next year, she said.
Other potential new ministries Jokowi's team is assessing include land and population, Widjajanto said. Indonesia, which has the world's fourth-largest population, has struggled to build infrastructure because of the difficulty of land acquisition in an archipelago dotted with smallholder farmers.
Megawati's Role
Jokowi will discuss a new cabinet in mid-September with Megawati Soekarnoputri, the chairwoman of his party, the Indonesian Democratic Party of Struggle, and other parties in his coalition before assessing candidates, he said last month.
Political realities mean a gradual transition is more likely to succeed, said David Sumual, chief economist at PT Bank Central Asia in Jakarta. Jokowi's current coalition will hold a minority in parliament.
"He is making a good effort on bureaucracy reform in terms of his objectives with the cabinet," Sumual said. Even so, "if Jokowi cuts drastically, it will be difficult for him as it may trigger a political backlash," he said.
Before it's here, it's on the Bloomberg Terminal.
LEARN MORE