Oscar Pistorius's Murder Trial Judge Ready to Hand Down Verdict
Paul Burkhardt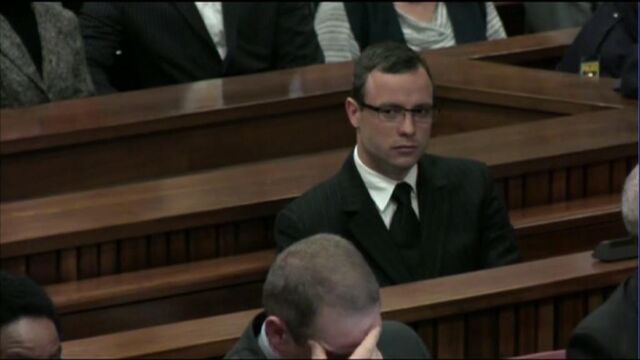 Oscar Pistorius may learn today whether he's been found guilty of the premeditated murder of his girlfriend Reeva Steenkamp on Valentine's Day last year.
Judge Thokozile Masipa, 66, will start reading her verdict at the high court in Pretoria, South Africa's capital, after a 41-day trial that started March 3. While the prosecution argues that Pistorius deliberately fired four hollow-point bullets at Steenkamp in a bathroom at his home after an argument, the defense says he mistook her for an intruder, and her death was a "huge, unfortunate mistake."
Masipa can either acquit Pistorius or hand down one of three guilty verdicts: premeditated murder, murder in the second degree or culpable homicide, which is the negligent unlawful killing of a person, according to legal analysts such as Ulrich Roux, a director at Johannesburg-based BDK Attorneys.
"The factual matrix for Oscar would be even if he believed it was an intruder behind that door, he knew that shooting the door would kill the intruder under circumstances where he wasn't permitted to shoot," said Stephen Tuson, an adjunct professor at the University of the Witwatersrand in Johannesburg.
If found guilty of planning to kill Steenkamp, Pistorius would face a minimum of 25 years in jail, while a verdict of murder without premeditation may carry a sentence of at least 15 years. A culpable homicide decision could mean as many as 15 years in prison.
Should Masipa agree with the defense's contention that the shooting was a reflex and the Paralympian lacked cognitive capacity, he could face a lesser sentence or even acquittal.
Blade Runner
Known as the Blade Runner because of his J-shaped prosthetic running blades, Pistorius, 27, was the first double amputee to compete in the Olympics. He's been free on 1 million rand ($91,500) bail since February last year. If found guilty, Pistorius's bail will be revoked and he will have to submit a new application, Roux said.
The charges have derailed the running career of the winner of six Paralympic gold medals and cost Pistorius sponsorship deals with Nike Inc. and Luxottica Group SpA's Oakley. He sold his home in Pretoria in May.
Masipa, a former social worker who in 1998 became South Africa's second black woman appointed as a high court judge, is making the ruling with the aid of two assessors. South Africa doesn't have a jury system.
Self-Defense
If Pistorius is found guilty, the state and defense teams will request time to compile evidence for sentencing, which will probably be six to 12 weeks after the verdict, Marius du Toit, a criminal-defense lawyer based in Pretoria, said in an interview.
Prosecutor Gerrie Nel said in his closing argument last month that if Masipa accepts that Pistorius acted in self-defense, the athlete "can't escape" a finding "at the very least" of intent because he would have had to foresee the possibility that he may shoot and kill someone.
Defense attorney Barry Roux said that even if Masipa rejects the idea that Pistorius's act was a reflex and did involve a thought process, she must consider his anxiety and sense of vulnerability caused by his disability.
Pistorius underwent 30 days of psychological observation, which was requested by Nel after an expert testified that a disorder may affect his judgment.
A psychologist who participated in the evaluation said in a report read out at the trial that at the time of the shooting, Pistorius didn't "suffer from a mental disorder or mental defect that affected his ability to distinguish between the rightful and wrongful nature of his deeds."
The athlete has also pleaded not guilty to three separate gun-related charges, which include firing a weapon in a restaurant and shooting out of a car. He could face sentences ranging from as many as five years to a fine for each count.
Before it's here, it's on the Bloomberg Terminal.
LEARN MORE