The U.S. May Not Be Leading on Climate, but California Is
Mark Hertsgaard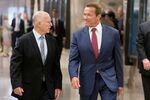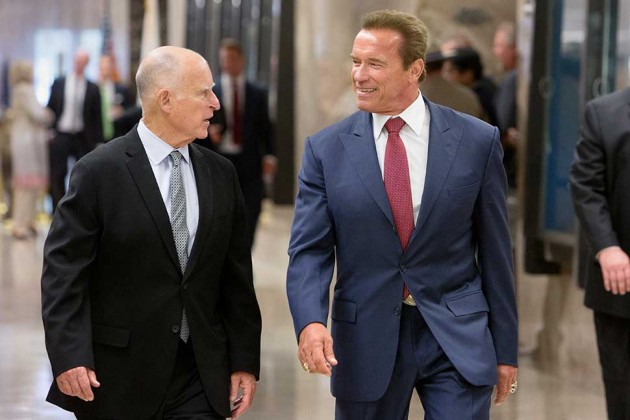 The conference hashtag said it all: #CARoad2Paris.
On Monday, Jerry Brown and Arnold Schwarzenegger, the current and former governors of the world's eighth-largest economy, appeared together in Sacramento to assert that the path to a global accord on climate change runs through their home state—and not Washington, D.C.
"As leaders from all over the world prepare for the next UN climate talks in Lima and Paris, we in California are ready to lead by example," Schwarzenegger told attendees of a symposium, titled Global Climate Negotiations: Lessons From California, at the California Environmental Protection Agency headquarters. "While the politicians in Washington can't get anything done because they're stuck in their ideological foxholes, we here in California have governors from two different parties in the same room fighting for a better future." Brown returned the compliment: "California is a world leader in climate change because of Governor Schwarzenegger and his passage of AB 32."
Passed in 2006, Assembly Bill 32 committed California to reduce its emissions of heat-trapping greenhouse gases to 1990 levels by the year 2020 and to reduce them 85 percent by 2050. Eight years later, the state is on track to meet these goals, said Matt Rodriguez, California's secretary for environmental protection, citing in particular its Renewable Portfolio Standard. The RPS requires that California generate 33 percent of its electricity from solar, wind, and other renewable sources by 2020.
What's remarkable is that California's progress didn't require technology breakthroughs, massive paradigm shifts, or onerous consumer sacrifice. Most of the reduction in carbon pollution has been achieved through energy efficiency—something Brown has been championing since the first time he was governor, in the 1970s. Back then, he reformed how electric utilities were regulated so that their profits were based not on how much electricity they produced but on how much they saved. As a result, California's electricity consumption has remained little changed over the past 40 years, even as the state's population doubled and its gross economic product tripled.
California's example puts the lie to the notion that fighting climate change is bad for the economy, both governors argued at the symposium. "Some so-called experts said our economy would crash if we passed AB 32," recalled Schwarzenegger. "In fact, it's been the opposite. California's economy has outpaced the nation's economic growth. We attract more than half of the investment capital in the country."
Much of that capital flows to Silicon Valley, where Apple is one of many companies that support the state's green energy policies. "Every one of our four data centers runs on 100 percent clean energy," said Lisa Jackson, who headed the federal EPA under President Obama before becoming Apple's vice president for environmental initiatives. "We're building a manufacturing facility right now that will be 100 percent clean energy," she added. "Manufacturing can be green."
"If the rest of the country had our policies in California, it would be equivalent to retiring two-thirds of America's coal-fired power plants or taking 188 million cars off the road," said Schwarzenegger.
Its record of marrying environmental protection with economic prosperity helps explain why "California is being watched by the rest of the world," said Rajendra Pachauri, the scientist who chairs the United Nations' Intergovernmental Panel on Climate Change. "At my institute in New Delhi, we are looking at how the California experience in improving air quality can be transferred to India."
Brown has reached out above all to China, the world's annual leading emitter of greenhouse gases. Building on discussions held when Brown visited the country in 2013, the California Air Resources Board (ARB), the agency that implements AB 32, is now advising Chinese officials on how to run an effective, profitable carbon-trading program. China has launched such programs in a handful of key regions; its collaboration with California is focused on expanding these programs into a nationwide system. "We expect action before Paris," Mary Nichols, ARB's chairman, told Bloomberg Businessweek. "The Chinese want the program running nationwide by 2015."
Governments the world over can profit by copying California's example: That's the message Brown will carry to a special summit UN Secretary General Ban Ki-moon is convening on Sept. 23 to build momentum toward signing a "meaningful" global climate deal at the Paris conference in 2015. During a recent conversation, Brown said, an oil company executive told him, "What you do in California makes no difference," because the rest of the world will keep emitting greenhouse gases. "That's not true," Brown said. The auto fuel efficiency standards California adopted were later implemented nationwide by the Obama administration, Brown noted. He added: "What happens here doesn't stay here. It goes all around the country and all around the world."
Before it's here, it's on the Bloomberg Terminal.
LEARN MORE